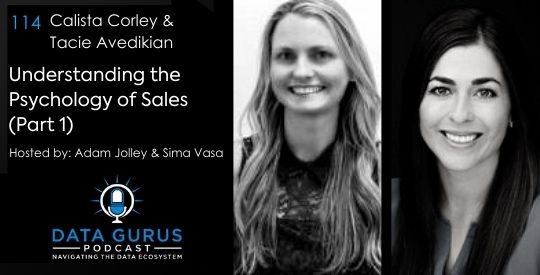 One of the biggest components for scaling any business is sales, and yet so many companies tend to struggle with it. It involves finding a balance between the right personality, the right leader, and ensuring that there's lockstep with the product.
Adam Jolley is joining Sima in presenting this two-part podcast series on sales.
Much of the sales piece tends to be forgotten in all industries, and there are no white papers or conferences just on sales. Adam feels that people don't even want to talk about sales, so, he decided that it would be very helpful to talk about sales in terms of what it takes, and also in terms of some of the intangibles that people have when it comes to sales.
Sima's goal for this podcast series is to help senior leaders understand the psychology of sales. She would like to help sales leaders understand how they need to think about sales as a profession, how sales integrate into an organization, and the psychology behind what makes a salesperson tick.
Today, we have Calista Corley, the Chief Revenue Officer of Fuel Cycle, and Tacie Avedikian, the Senior Director of Customer Development at Innovate MR, joining us as our first panel of sales professionals. They talk to us about their journeys, people's misperceptions around sales, and what it takes to be a successful sales professional.
Why Tacie is in sales
Tacie did not start her career in sales. As her career progressed, she realized how much she enjoyed connecting with people and gaining a deeper understanding of their problems, their likes, and their lives. And people used to go and talk to her because they trusted her. Eventually, her boss suggested that she should go into sales because he thought she would enjoy it and she was well suited to it. So she gave it a run, and she's still doing it and loving it now, seven years later.
Why Calista is in sales
Calista started her career in operations, and she progressed to leading operations teams. She was always front-facing and dealing with escalations. Although she excelled in that area, she realized that she was able to connect with people and solve problems, and that is what sales is all about for her.
People tend to get the wrong image of sales
Calista thinks that when people think about sales jobs, they often get the wrong image. The truth is that many of the best sales leaders and salespeople want to learn constantly.
A thirst for knowledge
A thirst for knowledge and improvement should drive people towards having in-depth conversations about solving problems.
Tacie's initial reservation around sales
Tacie never wanted to lose herself in pitching something cheesy or something that she did not believe in.
Sales is about sharing
Sales is about sharing something with people that can change things positively for them.
A stigma
Tacie feels that the sales title has an unfortunate tendency to create a stigma.
Sales is a hard job
Calista finds sales harder than ever right now. She believes that you cannot be a great sales talent or leader without being intelligent, thoughtful, educated, researched, and able to identify patterns and pivot quickly. And you need to be competitive as well.
Calista loves mentoring people
It means a lot to Calista when young women approach her to find out about her journey to becoming a CRO. That motivates her to keep on doing what she is doing in her profession.
The qualities of a successful salesperson
A successful salesperson primarily needs to be able to connect and engage with people. They also need to be real, authentic, and curious, have a desire to keep learning and growing, and have the ability to self-motivate and pivot if necessary.
Men and women differ in terms of sales
Diversity is necessary for a sales team. Men and women have certain differences in the way that they sell, and together, they work better.
Calista finds that women naturally have empathy and a sense of connection when it comes to selling. And that works very well.
Tacie feels that the different perspectives brought by men and women work well together in a sales environment.
Handling the ups and downs
Sales is a rollercoaster, so people need to be open to talking about their emotional ups and downs. Calista thinks the best salespeople are those who can remind themselves that an up will come after a down, and focus on that. They also always learn something from the down.
Good leadership
Tacie thinks that a supportive boss, or manager, who is empathetic and allows their salespeople to have autonomy, is essential for a successful sales team.
Work hard, play hard 
Working hard and playing hard is very real in sales because it is such a rollercoaster.
Sales culture
You are unlikely to succeed in sales if you are not working in a team, so companies need to focus on creating a kickass sales culture! Transparency and clarity are vital for creating that kind of culture.
Good leadership
Good leadership requires the ability to view each individual in the long term, in their right role within the organization.
Links:
Email me your thoughts!
Sima is passionate about data and loves to share, learn, and help others that share that passion. If you love data as much as she does, subscribe on iTunes, and don't forget to leave a rating and review!
Books mentioned:
Podcast: Play in new window | Download