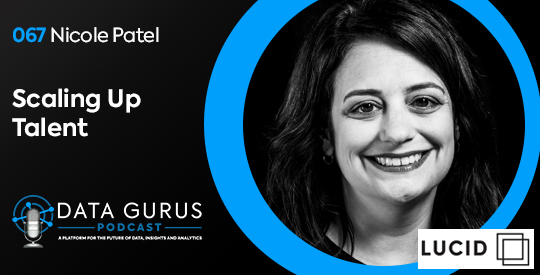 Podcast: Play in new window | Download
Today's guest, Chief People Officer Nicole Patel joins Sima Vasa to discuss the recruitment process and employee retention at LUCID. Further, she shares the processes they employ within the organization and the culture they promote that is centered on openness and transparency. 
Nicole and LUCID
Lucid was founded in 2010 in New Orleans, Louisiana and currently has offices in New Orleans, Gurgaon, London, New York, and Sydney. Nicole has provided much support to the growing company, as she helped grow Lucid's staff by 500%.
Before joining LUCID, Nicole spent 15 years in human resources across multiple industries. After working in corporate financial benefits at Baker Hughes, she spent the next 12 years in financial services at Lehman Brothers and Neuberger Berman. Ultimately, Nicole left financial services and moved to New Orleans and has been at Lucid ever since.
Growing and Retaining People
Nicole and her team pride themselves in growing the company — from 30 to 50 percent, growth in customers and revenue and definitely because they hired the right people. LUCID is always on the look-out for smart, quick and hardworking folks. 
Nicole shares in this episode the five values of LUCID and how they, the People Department, discuss these during the interview process and performance review process. Further, Nicole believes that this set of values attracts the right people. 
"We have a bi-weekly, all-hands meeting for the entire company — where someone talks about their favorite value and how they feel adhering to that value and how they aspired to be better at that value." – Nicole Patel
Corporate Culture at LUCID
Nicole shares how they maintain the Lucid Culture across all the offices around the globe and also integrate local culture. They value individual identities and they allow freedom of expression. Employees foster unique identities as long as they don't deviate from LUCID values.
"The key is finding the right balance of your brand and your culture, resonating and being consistent globally, across all occasion, while also allowing for these locations to have their own identity, based on the country or city they are in or based on their point of growth." – Nicole Patel
Additionally, she shares a method of getting feedback from employees. It is through a software that tracks employees' current outlook in their career and for the company as a whole. For other information about recruitment and retention of employees as well as the promotion of culture based on transparency and openness, listen to this episode. 
Quick links to connect with Nicole Patel:
Sima loves to hear from her listeners with input, questions, suggestions and just to connect! You can find her at the links below!
Sima is passionate about data and loves to share, learn and help others that share that passion. If you love data as much as her, subscribe on iTunes and don't forget to leave a rating and review!