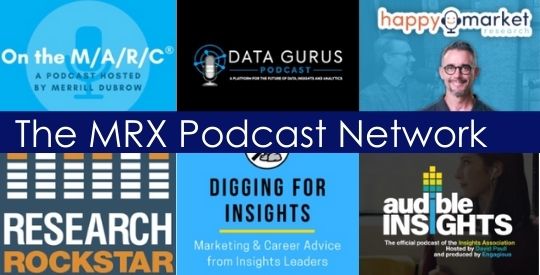 Podcast: Play in new window | Download
I am excited to share some news with you today. Some of my fellow podcasters and I came up with the concept of an MRX Podcast Network.
The main mission of the podcast network is to be able to podcast on a topic on our respective podcast channels, and provide multiple points of view, perspectives, and formats on how we address the specific topic, and give all our listeners in the industry a broader perspective as it relates to that topic.
We are starting this year with what we think that 2021 holds for our industry. These are not predictions or forecasts. They are about what each one of us wanted to share, related to 2021, and our thoughts about the market research industry, data, and analytics space.
We hope you enjoy what we have to share. We will be publishing the first series over the next few days.
For this podcast, we have put together a teaser to showcase some of what will be coming up in each of our podcast episodes, related to the outlook for 2021. Stay tuned for more!
2020
We will remember 2020 for many things, including a rise in the number of podcasts. Currently, 37% of Americans listen to podcasts monthly, and in 2020, more than a hundred million Americans listened to at least one podcast each month. It was the first time that that has ever happened.
Today's show
We will be hearing from six podcasters today, and each podcaster will give their outlook for market research in 2021.
David Paul – The Audible Insights Podcast from the Insights Association
This podcast focuses on quick-take conversations during industry events and longer interviews with industry leaders. They strive to keep everyone up to date with the market research industry, the latest methods and techniques, and the trends for the future.
Kathryn Korostoff – Conversations for Research Rockstars Podcast
Conversations for Research Rockstars is a video podcast that Kathryn has been running for a couple of years. It is about advancing the work and careers of market research and insights professionals. Kathryn has thousands of subscribers, and she has had some amazing conversations in the series.
Merill Dubrow – On the M/A/R/C®
Merrill has just completed his first year with 56 episodes. There is one episode for every year that M/A/R/C® research has been in business. Each episode is unscripted, uncensored, unrehearsed. There are plenty of takeaways from the amazing guests that he has had, including a mix of professional athletes, insight leaders, and CEOs.
Sima Vasa – Data Gurus
The mission of the Data Gurus podcast is to help everyone in the data ecosystem navigate the sea of change. Sima speaks to leaders, practitioners, CEOs, and change agents in the industry.
Stephen Griffiths – Digging for Insights Podcast
The Digging for Insights Podcast is a marketing and career podcast with advice from insights leaders from companies like Nestle, Ipsos, and General Mills. As a client-side researcher, Stephen focuses this podcast on helping client-side and supplier-side folks get the insights they need to grow their careers and the businesses on which they work.
Jamin Brazil – Happy Market Research Podcast
The Happy Market Research Podcast has had over 300 episodes and covers four industry trends per year. For each trend, they interview subject matter experts from major brands, including Adobe, Microsoft, and Proctor and Gamble.
David's outlook for market research for 2021
David's focus is on seeing the rebound of in-person research happening as soon as possible. He is anxious to support the ability to safely and quickly get people back in-person, doing in-person qualitative, and ramping that part of the industry back up.
Kathryn's outlook for market research for 2021
Kathryn thinks that survey research for 2021 will be about the areas that are likely to be hot. For quality researchers, she thinks that we will see some of the people who had to pivot to online research go back to in-person research, to some extent. Many people have said that they will never go back to the level of in-person research they had before because their online has worked so well.
Merrill's outlook for market research for 2021
For Merill, 2021 is all about opportunity and insight. Clients are changing, and insights will be more important than ever. He thinks that there will be opportunities in the insight community to build products and services around geo-targeting and geo-fencing. We could also be heading towards a cashless society.
Sima's outlook for market research for 2021
Sima thinks that the demand for insights could not be greater. She sees the democratization of insights coming into play and providing quick-turn research. And the visualization of data allows the democratization of insights through large brand organizations, enabling people to make decisions more quickly and efficiently. She also thinks there will be more conversations around data quality and privacy, and how to protect consumers and technology will play a big part.
Stephen's outlook for market research for 2021
Stephen sees a change coming in the way we are working, especially on client-side companies. He sees that the idea of agile and experimentation is starting to take hold. The desire to be more agile and get real-world learning will continue to be a trend for the future.
Jamin's outlook for market research for 2021
Jamin thinks we need to take the time to get to know all the people we work with because they are our best resources for all the rest of our careers. He believes that we will continue to invest in the asset of a relationship because it is the one thing that is unmoveable in our ever-fluid world.
Links and resources:
David Paul – The Audible Insights Podcast
Kathryn Korostoff – Conversations for Research Rockstars Podcast
Merill Dubrow – On the M/A/R/C®
Sima Vasa – Data Gurus
Stephen Griffiths – Digging for Insights Podcast
Jamin Brazil – Happy Market Research Podcast