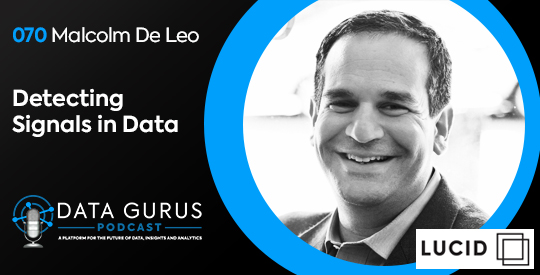 Podcast: Play in new window | Download
In this episode, Sima Vasa converses with Chief Evangelist for Quantifind, Malcolm De Leo. He shares with us how Quantifind detects signals to help predict outcomes, how he embraces innovation in his career and how he enforced the philosophy of "Corporate accountable, locally responsible."
Chief Evangelist 
Malcolm serves as a Chief Evangelist for 20 years now, 5 years of it has been spent with Quantifind. He proudly shares that his main focus is to help the company drive sales through understanding and developing use cases and defining how they can scale and grow these for repeat sales.
"I've spent probably my entire time in Silicon Valley, helping people understand how to use data intelligently so that they can make better decisions faster." – Malcolm De Leo 
Extracting Signals From Data
He further shares that Quantifind's core competency is finding signals and noise — they take unstructured data and build mathematical algorithms that create intelligent flares that signal extraction. Further, Quantifind's goal is to identify used cases in a larger organization where they can extract that valuable signal from that data.
"Unstructured data has grown 85% every 3 years. Companies who are able to find that 10% of the data that matters or extract the signal from that data—are the ones who are gonna win." – Malcolm De Leo
Decision-makers of companies rely on these signals to assist them in reacting, most specifically, in reacting to relevant events. Clients of the company not only include brands but the government as well, sending signals for fraud or money laundering.
 "If you are using traditional means that are out there, around collecting social data day by day, you may react to how much people talk. You may react to how passionate they feel about something but, if it's not tied to something like viewership or revenue (an outcome), you may be reacting to the wrong things." – Malcolm De Leo
Philosophy of innovation
Sima Vasa digs deep into Malcolm's philosophy of innovation. Malcolm shared that his first and foremost priority is aligning culture strongly. He follows his philosophy of "Me, We and the Enterprise."
He believes that the enterprise sets the tone for everyone. However, the "me" or the individual is equally important because he/she must understand his or her own process of innovation and interaction with others. This leads to the concept of "we" where collectively, they can work together to drive the needs of the enterprise.
"If you can align those three things, you start to get a much more systematic culture."  – Malcolm De Leo
Sima and Malcolm discuss more corporate culture and innovation as well as trends in the insights space.
Quick links to connect with Malcolm De Leo:
Sima loves to hear from her listeners with input, questions, suggestions and just to connect! You can find her at the links below!
Sima is passionate about data and loves to share, learn and help others that share that passion. If you love data as much as her, subscribe on 
iTunes
 and don't forget to leave a rating and review!