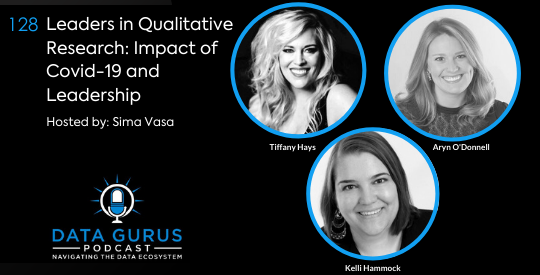 Podcast: Play in new window | Download
On today's show, Sima is excited to host a panel of three powerful and well-respected women as her guests. Tiffany Hays is the CEO of FUEL Global. She is and also CEO of The Focus Room. Aryn O'Donnell is the Vice President of Corporate Services of Fieldwork. And Kelli Hammock is Senior Client Solutions Manager at L&E Research.
Tiffany, Aryn, and Kelli are all in the qualitative space in which Covid-19 greatly impacted.
The impact of Covid-19 on Fieldwork
Fieldwork has in-person qualitative research spaces that got impacted by Covid-19. At Fieldwork, they have always been solving their clients' problems, and right now, they are solving new problems. They got forced to think differently, ask questions, and find new ways to connect with their industry colleagues.
The impact of Covid on L&E Research
L&E Research had to make a big pivot to learn how to get proactive around the changes that happened within the industry and the company. They had to come up with solutions to apply to the new problems that their clients were having. The biggest thing for them, professionally, was getting out of the reactive mode and figuring out how to make things work.
The Impact of Covid on Tiffany, as a leader
The biggest thing for Tiffany, as a leader, was making sure that her employees had even more flexibility than she was used to giving them. There were new challenges that she never expected to face as a leader. She had to set boundaries for her teams to ensure that everyone gave each other space and checked up on one another's mental health within their organization of about 25 employees. They had to become aware of the new challenges with which people were dealing.
The impact of Covid on FUEL Global 
In the business itself, Tiffany's clients preferred to be in-person. So there was some push-back to them having to use an online qualitative platform. Working on a global scale, the company had to learn to manage clients across the globe. One of their biggest challenges was ensuring that the clients could get what they needed in the online world.
A breaking point
Tiffany believes that this will be the breaking point in our industry, where the clients realize that they can do both in-person and virtual. And we will see a permanent reduction in in-person research.
Clients are thinking critically
Aryn believes that clients are now thinking critically about what the goals of their research are. And they are deciding what they need because all research cannot get done remotely.
Producing revenue
Understanding client's objectives clearly, and helping them figure out how to get what they need out of the research is vital right now. Tiffany is helping her clients figure out how to get things done because that is not going away. And that, in itself, produces revenue.
Safety within the facility
From a facility perspective, Aryn feels that it is her company's role to educate the clients. And work with them to find the right solution in terms of safety protocols.
From where the hesitation to get back to in-person research is coming
Kelli does not think that any hesitation to get back to in-person research is coming from the respondents. She feels that it is coming from a corporate legal perspective.
Where we are most likely to see in-person research get back to normal
We are most likely to see in-person research getting back to normal in the markets with many local clients who need not travel too far to get to the facility.
Flexibility and support
Some challenges that research companies have to manage currently around their workforce are offering flexibility and support. And setting boundaries. They also have to address the mental health repercussions of the pandemic.
Links:
Email me your thoughts!
Sima@Infinity-2.com
LinkedIn
Twitter
Infinity-2.com
Tiffany Hays on LinkedIn
Aryn O'Donnell on LinkedIn
Kelli Hammock on LinkedIn
Sponsors:
Paradigm Sample
All Member Audio Podcast Spot