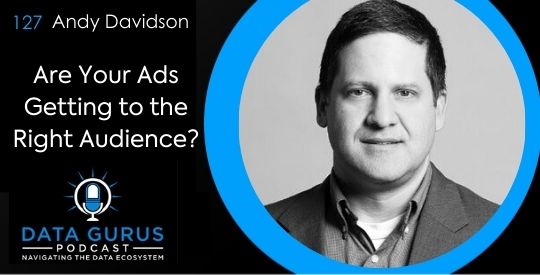 Podcast: Play in new window | Download
Today, Sima welcomes Andy Davidson from the Engine Group as her guest. Andy is the Head of Analytics and Data Strategy at Engine.
The Engine Group
The Engine Group is a full-service marketing services firm specializing in a range of things from insights and analytics to planning and content and distribution.
Background
Andy has been with the Engine Group for about two years. Before that, he spent twenty-five years in various assignments across research analytics and data science. He worked on the client-side as well as on the agency side. His focus has been on helping advertisers and their agencies in addressing business problems with data analytics. He spent a lot of time helping his clients develop marketing strategies. And then personalizing the customer experience and measuring those efforts in the returns they are getting.
Engine specializes in three areas
Insights and analytics: This function supports both advertisers and agencies in making better decisions using data and analytics.
Planning and content: These are about creative and media strategy and media planning.
Distribution: Engine owns a proprietary ad exchange. They have relationships with a lot of the publisher networks. Through that capability, they can place media programmatically for much of the market. That includes both the agencies and the advertisers directly.
A combination of services
The Engine Group has a combination of services, from a data and analytics perspective and a distribution perspective, that many other firms in their arena don't normally have. That creates a seamless experience for their customers. Their clients are increasingly becoming multiple threads. They also have plenty of more single-threaded situations.
There are some key challenges in the ad space
When it comes to audience targeting, media campaigns don't always reach where they are supposed to. That can happen as often as fifty percent of the time. At Engine, they recognize that challenge, and they have invested a lot in helping their clients overcome it.
Data
The targeting challenge, at its core, is a data and analytics problem. Data is behind every decision that an advertiser makes around bidding on an opportunity, whether it is a video ad, a display ad, or a CTV-type impression.
Accurate data
That data is usually pretty accurate when it comes to straight-forward behaviors, like past purchases and demographics.
Where things tend to fall apart
Things tend to fall apart, and problems become apparent in the area where advertisers spend a lot of money. That area includes attitudes, intentions, and sentiments in the softer type of targeting requirements.
A huge opportunity
All the requirements around attitudes are a huge opportunity. At Engine, the focus is on investing in solutions that build a better cross-walk between the people who the advertiser wants to reach and the people to whom the advertising gets sold to reach that goal.
Programmatic media
Programmatic media is all about understanding who you are looking at and what their attitudes and behaviors are.
No validation
There is no validation for many of the data solutions out there, particularly those related to attitudes.
Improving precision
At Engine, they are working in the opportunity area of data solutions to improve precision. They do that by building from the ground up using survey research, starting with the voice of the customer.
The measure of success
Their success can get measured by comparing the legacy model with the new model to see how many more people they have reached in a particular segment. Their best measure of success is whether or not they got to the person they wanted to get to. Their success can also be measured by whether or not the campaign ultimately had the expected effect.
The future of ad measurement
The future of ad measurement looks very exciting for Andy. We will soon reach the point where most things are connected. All consumers will get connected. Therefore all advertising delivery will be digital and connected in some way, shape, or form. The best thing from a data standpoint is to have connected data sets across the entire consumer journey.
Protocols
Andy feels that it is important for us to have the right protocols in place to protect people and their wishes and desires.
Links:
Email me your thoughts!
Sima@Infinity-2.com
LinkedIn
Twitter
Infinity-2.com
Andy Davidson on LinkedIn
Sponsors:
Paradigm Sample 
MRX Podcast Network