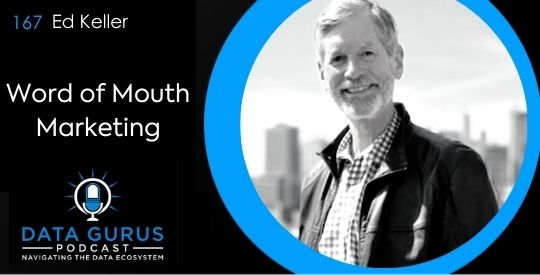 Podcast: Play in new window | Download
Welcome to another helpful and informative episode of the Data Gurus Podcast! Sima is excited to have Ed Keller joining her today. Ed is a leading expert in word-of-mouth marketing and social media analytics. He is the Co-founder of Keller Fay Group, the former CEO of Engagement Labs, and the author of the book, The Influentials.
Ed is passionate about word-of-mouth marketing because it makes a huge difference! It is critical to how brands grow and how consumers make decisions about products and the services they buy. In this episode, Ed talks about word of mouth marketing, explains why he is so passionate about it and discusses its effectiveness as a marketing tool.
Intuitive belief 
Many businesses intuitively believe in word-of-mouth marketing but do not fully understand what to do about it or how to use it to grow their business.
Ed's book
Almost twenty years ago, Ed wrote a book called The Influentials: One American in Ten Tells the Other Nine How to Vote, Where to Eat, and What to Buy. He was the CEO of RoperASW, a large market research firm, at the time. Malcolm Gladwell had just written The Tipping Point, and Roper had an extensive database about the people that typified what Gladwell was talking about. So they put all the data together in the book.
The Keller Fay Group
After writing the book, Ed met many budding entrepreneurs in the early stages of social listening. He enjoyed the space and wanted to jump into it as an entrepreneur. So he and a colleague started the Keller Fay Group to become the measurement standard for offline word of mouth.
What is word-of-mouth marketing?
Word of mouth can be technology-driven or with person-to-person small group interactions.
Offline word of mouth happens when people talk face-to-face, over the phone, on a Zoom chat, texting, or IMing. It occurs when people seek advice or want to share an experience with friends and family.
Social media and writing reviews are also forms of word of mouth.
How important is word of mouth?
Word of mouth can explain between thirty and forty percent of purchase decisions. It is not as high as that in fast-moving consumer goods, however.
Covid
During Covid, word of mouth became even more important to people as they needed new products, and new ways of buying came onto the market.
AT&T Mobility
AT&T Mobility was one of their first clients to model with word of mouth data. Word of mouth came in as a close second to paid advertising as a determinant of new subscribers. That was the first time that Ed and his partner had concrete evidence of something they intuitively believed important.
An important factor
After that, they started modeling word of mouth against many different categories. In every case, it proved to be an important factor. It also has an important relationship to the effectiveness of paid advertising.
Research
Their research found that Americans have about ten word of mouth conversations offline, about brands, per day.
Word of mouth marketing
People think about word-of-mouth marketing in several different ways. Word-of-mouth marketing agencies recruit people who love talking about brands and are willing to try new products and share their experiences. In other cases, people are doing different types of experiential marketing, hoping that people will end up energized by the experience and talk about it with others. There are also a growing number of companies thinking about creating earned media with their advertising.
Helping brands quantify the amount of word of mouth lift
Much of the work Ed has done over the years was about helping brands to quantify the amount of word-of-mouth lift they got from their advertising campaigns.
Increased offline word of mouth
The massive rise in social media has increased the amount of offline word of mouth. There appears to be an interaction effect between digital media and offline due to the growing impact of digital media as the number one driver of offline word of mouth.
No correlation
They learned that there is no correlation between offline and online trends in word of mouth for brands. From a marketing point of view, it is vital to understand that social media is not a reflection of what is happening offline.
Consulting
Ed is now doing consulting for data and technology companies. He is also actively engaged in advisory boards and boards of directors, including the Suzy Advisory Board.
The future
Ed intends to do some writing on nano-influencers because that is an area of personal and professional interest.
Bio:
Ed Keller is one of the foremost experts in consumer insights and word-of-mouth marketing. As both an entrepreneur and a top exec in leading insights agencies, he has built and sold businesses, launched data and insights products, acquired and integrated businesses, managed global teams, and worked with many of the world's leading brands.
Ed has been called "one of the most recognized names in word of mouth" and was inducted into the Word of Mouth Marketing Hall of Fame in 2014 as well as the Market Research Council Hall of Fame in 2020. The publication of his book, The Influentials, has been called the "seminal moment in the development of word of mouth." His second book, The Face-to-Face Book: Why Real Relationships Rule in a Digital Marketplace, was named the Best Book in Marketing for 2013 by the AMA.
He is a leader and innovator in word of mouth measurement, analytics, and strategy as well as word of mouth marketing, influencer marketing, social media analytics, and consumer insights. His work has earned numerous awards as well as two patents. His clients include many of the largest and most sophisticated marketing organizations in the world across a range of sectors, including Netflix, Hulu, Twitter, Pepsi, AT&T, Microsoft, Progressive, ViacomCBS, and MetLife among others.
After selling the Keller Fay Group and remaining on as CEO of Engagement Labs, Ed led the development of TotalSocial, a unique platform with a patented methodology that integrates measurement of both offline WOM and social media conversation about brands, with analytics to link the results to business outcomes such as sales, brand health, and media amplification.
Before starting his company, Ed was CEO of RoperASW and then of NOP World Consumer (part of NOP World, a global top 10 market research agency), where he led a multinational team that served blue-chip clients with research products and solutions covering consumer trends, brand health, customer satisfaction, advertising performance, and public opinion/public affairs. He was instrumental in the sale of Roper Starch Worldwide to NOP and then the sale of NOP to GfK.
Ed was the first Chairman of the Board of the Word of Mouth Marketing Association (WOMMA) and has served on the Board of the Advertising Research Foundation and of BazaarVoice. He is a Past President of the Market Research Council and a member of the Annenberg School's Alumni Advisory Board.
Ed is a magna cum laude graduate of the University of Pennsylvania, where he also earned his MA in Communications from the Annenberg School for Communication.
Links:
Connect with Ed:
Email me your thoughts!
Sima@Infinity-2.com
Books mentioned:
The Influentials: One American in Ten Tells the Other Nine How to Vote, Where to Eat, and What to Buy by Edward B Keller