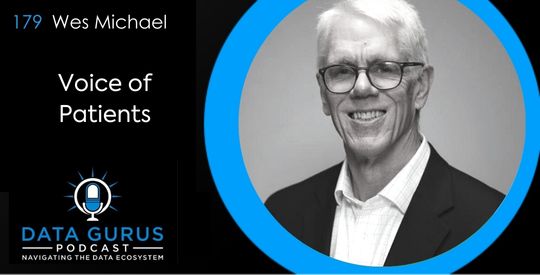 Podcast: Play in new window | Download
Welcome to another engaging and informative episode of Data Gurus!
Today, Sima is happy to have Wes Michael, the Founder and President of Rare Patient Voice, joining her!
Wes founded Rare Patient Voice in 2013 to give patients and caregivers with rare diseases the opportunity to voice their opinions in research studies. In this episode, he explains what prompted him to start Rare Patient Voice. He also talks about how he has grown the business and what they do.
Wes's story
After graduating, Wes worked for a computer consulting company that did surveys. Then he returned to school to get an MBA and learn about statistics. After that, he worked at General Mills for a few years and learned about market research. He then moved to McCormick, a spice company in Maryland.
A big change
There was a change in the healthcare world in the nineties when direct-to-consumer ads were made legal. Wes moved into that world when he joined Kantar Health (then known as Migliara/Kaplan). He dealt with companies like Merck, Pfizer, and BMS, which knew everything about marketing to physicians but nothing about TV advertising to mass markets. Wes found it interesting to see those companies move from doing physician research only to doing patient research.
Rare diseases
One of Wes's first clients was one of the few thousand people in the entire country in the hemophilia space. That company asked Wes to create a panel to help market their hemophiliac treatment product.
The National Hemophilia Foundation Conference 
Wes went to the National Hemophilia Foundation conference and explained market research. People signed up to do interviews and surveys. After that, they went back every year to recruit more people.
A business idea 
A few years later, a client from a different pharmaceutical company in the hemophilia space asked Wes if they could access his patient panel. That gave Wes the idea to create a panel of people with hemophilia and other diseases and start a business to make it available to multiple companies.
Rare Patient Voice 
When Wes founded his Company, Rare Patient Voice, nine years ago, he started working with the hemophiliac community. He looked at other areas of interest, like multiple sclerosis, later.
Referral bonus
Patients know other patients. So Wes started offering a referral bonus to people who referred others to do his surveys.
Cancer patients
Wes did not want to work with cancer patients initially. However, after being inundated with requests from cancer patients, he started working together with David Wasilewski, the creator of WhatNext.com, the social health website of the American Cancer Society. It was a win-win situation for both of them, and it got Wes started with multiple diseases.
Hiring more people
As the demand increased, Wes hired more people. Then an MS patient from Colorado offered to help and started creating patient events in Colorado. After a while, Wes had fifty people from around the country going to patient events and spreading the word. That eventually became a source of full-time employees.
Advocacy groups
Many advocacy groups have partnered with Rare Patient Voice.
Competition
They are competitive and like to win. Even so, Wes likes to think that there are no losers. Some of their competitors are also their clients because even though they have panels, they still don't have enough to achieve what Rare Patient Voice has done.
Patients
With every survey, patients get the chance to give some feedback. Wes loves to read out their comments in their monthly meetings.
Referral pay-outs
Since its inception, Rare Patient Voice has paid more than $9,000,000 for referrals!
Other research firms
Most of the work Rare Patient Voice does is with other research firms. They are also happy to deal directly with pharma companies, but those companies usually prefer to have a firewall between themselves and the patients.
Expanding their horizons
When Wes started his company, he assumed that non-rare disease needs were being met by the big panels and decided to focus on rare diseases only. Then he discovered that many patients have multiple conditions. So he resolved not to refuse anyone.
Helping others
Many of the patients Wes works with are very ill. Yet they still like to do surveys because they feel they could be helpful to others with the same disease.
The future
Wes is working on expanding his business into Europe. He is also considering including other revenue streams, like clinical trials, in the future. 
Bio: WES MICHAEL: Founder and President, Rare Patient Voice
Wes Michael founded Rare Patient Voice in 2013 to give patients and caregivers with rare diseases the opportunity to voice their opinions in research studies.
Rare Patient Voice has now conducted thousands of studies and rewarded patients and caregivers with over $9 million for their participation. Many have been recruited in person by Wes and his team at patient events like fund-raising walks and patient conferences, and through a referral program with patient advocacy and support groups. Rare Patient Voice now covers non-rare as well as rare diseases and conditions and has expanded from the United States to Canada, the United Kingdom, France, Germany, Italy, Spain, Australia, and New Zealand.
Before launching Rare Patient Voice, Wes worked for the healthcare market research firm Kantar Health. He previously was a brand manager and market research manager at McCormick (the spice company) and General Mills (working on Wheaties, Total, and Kix cereals). He has a BA from the University of Pennsylvania (with a year at Edinburgh University) and an MBA from the University of Chicago.
Wes lives outside Baltimore, Maryland, with his wife, Cathy, children Julia and Cliff, grandson Taylor, and dogs Ace and Stanley.
Links
Connect with Sima:
Email me your thoughts!
Sima@Infinity-2.com
Connect with Wes:
Wes Michael on LinkedIn
Rare Patient Voice on Twitter