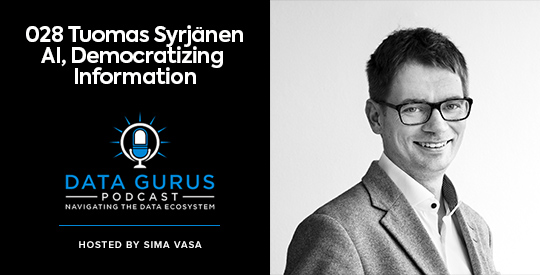 Podcast: Play in new window | Download
Tuomas Syrjänen is Chief AI Officer and Co-Founder of Futurice. Today, he sits with Sima Vasa to talk about emerging data-driven business models. He also discusses the impact of data and AI on culture and practical blockers to data and AI adoption.
"We are in the middle of this kind of digital innovation culture shift where we are talking more about agile organizations." – Tuomas Syrjänen
Tuomas Syrjänen – A Primer on Futurice
Futurice is a 500-employee digital consultation company. They help big corporations determine their direction and undergo digital transformations. Some of their big league clients include BMW, E.ON, and Nordea Bank.
The company has been around for 18 years. Their consulting spans different levels. They build digital services and define how a business compares to other models and in relation to culture.
Growing Digital Marketing Trend
A trend in product creation is rising. From experimentation, people have started to take observation-driven approaches.
"Instead of experimentation we actually observe what goes on in social media, how customers behave… and using data and AI, [we can] directly create products or services that fit customer needs." –  Tuomas Syrjänen
The traditional methods of data collection used to drive research no longer suffice. Customer feedback aids in creating dual value products for not only the use of clients and customers. They also use these products to gain insights on what customers want and how they're actually utilized.
Double Cultural Changes
Two cultural changes in the business sphere are happening at the same time. One is the shift from traditional, top-down corporate culture into a digital innovation culture. And then there's the shift to more data-driven business models.
Together, these will impact a lot of future organizational cultures. And they will affect how decisions are made, how uncertainty is handled, and how individuals can take more initiatives.
Quick links to connect with Tuomas Syrjänen:
Sima loves to hear from her listeners with input, questions, suggestions and just to connect! You can find her at the links below!
Sima is passionate about data and loves to share, learn and help others that share that passion. If you love data as much as her, subscribe on iTunes and don't forget to leave a rating and review!