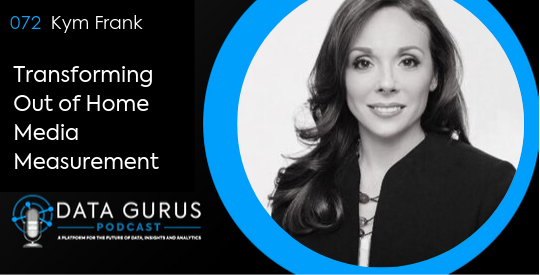 Podcast: Play in new window | Download
The President of Geopath, Kym Frank, sits down with Sima Vasa for today's chat. They discuss the history of Geopath, how they use eye-tracking studies, and location data
The Uniqueness of Geopath
Geopath is a unique organization founded in 1933, as a joint venture between The Agency Trade Association, The Advertiser Trade Association, and the Out of Home Advertising Association. This organization was founded as the Traffic Audit Bureau for Media Measurement Inc., and rebranded in 2016 as Geopath.
Their core organizational mission is two-fold: 
to independently audit all out-of-home advertising inventory across the United States. For example, making sure a billboard is where it's supposed to be, or checking the angle to oncoming traffic, or perhaps verifying whether it's a digital or printed format. Goepath performs this work across all varieties of out-of-home advertising: billboards, benches, city kiosks, subways, bars, restaurants, airports, and malls. They currently audit about two million pieces of inventory across the country.

 
to measure how many people are exposed to those pieces of inventory. Geopath just recently overhauled their measurement system to go along with their new name. This new system focuses more on the geographic pathways that people are taking across the country as they intersect with out-of-home advertising.
Eye-Tracking Studies
Eye-tracking studies are performed by Geopath to determine the probability of somebody making eye contact with an out-of-home advertisement. Although it may sound futuristic, it's just a matter of putting eye-tracking goggles on people to help identify what drives them to make eye contact with an ad. 
It could be the size, the angle to oncoming traffic, many different factors that drive a person to make eye contact. Not everyone who walks or drives by an ad will look at that ad, so Geopath is trying to be responsible about the way that they're measuring the channel. 
This will be helpful as out-of-home starts entering a more audience-based buying programmatic ecosystem, which is where we're starting to migrate to, as a culture, today.
8 Billion Dollars and Growing
Out-of-home advertising is growing! It is the only traditional channel that is on the upswing, and there's a few reasons for that. People are moving around in urban environments in different ways than they have before, more people are living in big cities and taking mass transit, and they are being exposed to opportunities to the channel more than ever before.
Harnessing the Power of Local Data
Geopath is overhauling the measurement system. The core is built in aggregated and anonymized location data from mobile devices throughout the entire United States. Geopath also uses information from connected car dashboards, specifically speed information. This is useful because if you pass a digital billboard doing 60mph, you're only able to see a certain number of ads on that billboard, which rotate every 8 seconds. But if you're stuck in traffic or moving a lot slower, you will be able to see more of those rotations. 
These factors really go into play in Geopath's measurement system, as they are harnessing new audience demographics, psychographics, and computer graphic information. 
The information provided better enables them to target the kinds of consumers that advertisers are looking for, and makes them super-relevant for the consumers as they're passing by.
The Buzz of Changing Behavior
Geopath anticipates more opportunities to approach advertisers with good stories about the people that they're trying to communicate with, and in ways that they've never been able to do that before. 
This should shift the way advertisers think about out-of-home, and it positions this channel as innovative and technologically savvy. As the oldest medium, it's gaining a lot of buzz about how innovative the channel really is, and budgets are starting to migrate from other channels. Eventually, this is expected to cross both the national and local landscape.
Quick links to connect with Kym Frank:
Twitter: @kymfrank
Linkedin: www.linkedin.com/in/kymfrank
Sima loves to hear from her listeners with input, questions, suggestions and just to connect! You can find her at the links below!
Sima is passionate about data and loves to share, learn and help others that share that passion. If you love data as much as her, subscribe on 
iTunes
 and don't forget to leave a rating and review!