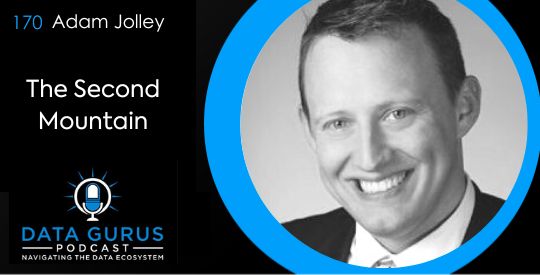 Podcast: Play in new window | Download
Welcome to another interesting and informative episode of the Data Gurus Podcast! Sima is happy to have Adam Jolley, the EVP and General Manager of Americas for Paradigm Sample, joining her today to talk about how leadership has changed due to how the world has changed over the last two years.
Adam's background
It was a shock for everyone when the pandemic hit. It was also a big shock to Adam's career because he had quit his thirteen-year job as President of a stable company a few months before. At the time, he was navigating what to do for a career. He was also considering whether to get into leadership or be an individual contributor.
Having to change
If Adam had started with Paradigm immediately after quitting his old job, nothing would have changed, and he would not have gotten any better at what he did. Due to all the changes, including the influence of the change in the mindset of the employees, he had to change how he did everything.
A routine
Adam feels that before the pandemic, most people were in a routine. They were doing the same job repetitively, so they started getting lazy. People started becoming replaceable, and products became widgets and started becoming commoditized.
Competition for your people
Before, people had to think about competition in terms of market and product. Now, there is competition for people.
Sales
It is no longer possible to have a playbook for sales. Currently, there is no one way to manage, sell, or communicate with everybody because that would be limiting.
An opportunity for leaders
All the changes have created an opportunity for leaders to personalize their message and motivate their people to show up for work.
Customizing leadership
When everyone started working remotely and communicating via Zoom, people learned more about each other. That helped Adam to customize his approach to leadership.
How Adam changed personally after the pandemic
Adam stopped looking at what had happened and what was happening that day when making decisions. He was forced to think differently about his goals, and he developed an emotional attachment to his job beyond the paycheck, insurance, and other benefits.
Teamwork
Adam was never a big believer in teamwork before. That has changed because everyone has gone through a hard time and a change together, and everyone needs acceptance.
Branding
With the change in leadership, there is more emphasis on branding. There is also more emphasis on companies because so much has changed.
Personal branding
Many leaders focus on their personal brand outside of the company. However, personal branding is just as important internally as it is externally.
Have your house in order
The most important part of a business is making sure you have your own house in order before putting anything out there.
Leadership and embracing innovation
It is scary for people to innovate and have foresight, especially when things are going well. However, to move forward, innovation needs to be company-wide. Everyone, including the sales team, needs to be thinking about where things are going and what comes next.
A tough balance
Even though it is tough to balance, leaders need to bring their people along throughout the innovation process.
A fine line
There is a fine line between taking market feedback, input from sales, input from marketing, and input from people building products, rationalizing what is important, why it is important, and getting everyone to agree about those decisions.
Culture
An interesting problem for leaders is when they see a company they would like to acquire, but it will not pass the road test for the executive team. Adam believes that is partly due to leaders misunderstanding what culture truly is.
Data-driven gambles
Adam's company has taken on the culture of taking data-driven gambles. Before starting a new product or going after a new client, they do their due diligence. So they know whether or not it stands a good chance of working.
Diversity
Diversity is a big part of leadership, and it is vital for growth.
The Second Mountain
Adam's thoughts about leadership have been influenced by the book The Second Mountain. The book is about spending the first part of your career building yourself up to a place and the second part of your career bringing others up to where you are.
The next wave
Adam spent his first year getting core foundational salespeople who know their job and what they are doing. The next mountain will be about getting more sales opportunities, having accountability partners, thinking about getting people who have not worked for another sample company or in fieldwork, and how to get people excited about market research.
Links:
Email me your thoughts!
Sima@Infinity-2.com
Books mentioned
The Second Mountain by David Brooks