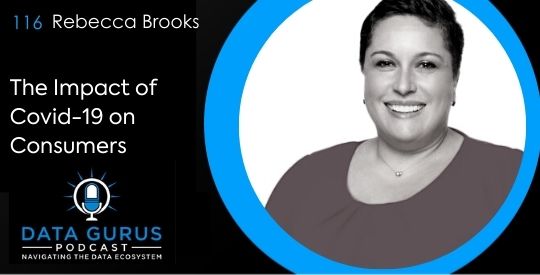 I'm happy to welcome Rebecca Brooks to the show. She's the founder and CEO of Alter Agents, a full-service, strategic market research consultancy reimagining research in an era of shifting decision making. Rebecca has enjoyed an amazing trajectory to her successful career, and her work has never been more relevant and necessary than it is in today's world. 
About Rebecca
Rebecca fell into market research without intending to make it her career, but she quickly fell in love with this kind of work. Ironically, her college background was in primate behavior, which she touts as entirely applicable to her work today.
How Alter Agents has matured 
Rebecca felt strongly that she shouldn't have to choose between a career she loved and the family she wanted. She decided that she could run a great market research company and do it differently by focusing on her employees' priorities. Ten years later, Alter Agents has had their best year ever, even in the time of COVID; they have hired seven new people in 2020. What makes Rebecca the proudest of her company is that she lives up to her commitment by creating a culture that employees want to join. 
Highlights of a study in friendship
During the time of COVID, we are all trying to understand how relationships are changing and what the challenges are in a new environment. Rebecca's company joined in a study with Snapchat that encompassed 16 countries and 30,000 interviews. Alter Agents helped develop tools to help Snapchat grow in the friendship space and capitalize on a basic human need. 
What you can learn from the refrigerator
The friendship study research showed an interesting practice in the immigrant community. Many people are using a visual platform like Snapchat to check up on loved ones by asking for a picture of what is in their refrigerator to make sure they have what they need. Much more than a text or phone call, Snapchat's platform has become a positive way for technology to help friends and families to stay connected.
Fear and anxiety in the time of COVID
Alter Agents began a survey in the US in November 2019 to ask what made people feel fearful in their daily lives. The conclusion was that fear and anxiety in the general public was way worse than most people realized–and this was before the pandemic began. The same research a few months later showed a startling decline in comfort and safety for Americans, especially for the African-American population. 
How COVID has highlighted the differences
COVID clearly exacerbated the problems in our economic systems, and the disadvantages were magnified. This occurred more dramatically in the African-American community because of their history of being under cared for in our healthcare system. The differences were also dramatically revealed in the Native American population. The Alter Agents study found that COVID highlighted the brokenness of our system for non-Caucasian people. 
Rebecca's advice to brands
People want the brands they purchase to align with them politically and ethically like never before. They turn to corporations for stability and structure when their government isn't working well, and they vote with their dollars. Corporations need to recognize this tendency and realize that it goes far beyond a marketing campaign. Rebecca's advice is to evaluate the position you take in marketing and who you are, and what you stand for all the way up the supply chain. 
Women in the workplace
Even before COVID, the research showed that the disparity between moms and dads as they parent is even greater than the difference between men and women in the workplace. COVID has disproportionately affected women as many have left the workplace in making the unimaginable choice between their careers and caring for their children. COVID took away the support structure that women relied upon while expecting the same workload and results. The challenge for corporations is how to best support their employees. 
Links:
Email me your thoughts!
Sima is passionate about data and loves to share, learn, and help others that share that passion. If you love data as much as she does, subscribe on iTunes, and don't forget to leave a rating and review!
Podcast: Play in new window | Download