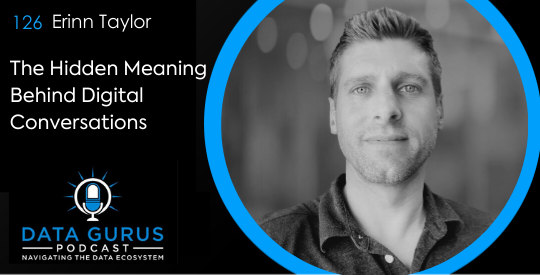 Podcast: Play in new window | Download
Sima is excited to welcome Erinn Taylor as her guest for today's podcast. Erinn is the Executive Vice President of Product and Platform at Canvs AI. He has had a breadth of experience within the field of market research.
Some of Erinn's background
Erinn grew up in market research. He worked his way up at several different organizations. About a year ago, he met the founder of Canvs and was intrigued with what he was doing related to text analytics, so he joined Canvs.
A great year
Canvs had a great year last year. They have done a lot technology-wise, and they have grown the platform.
Canvs
Canvs is a text analytics platform, and they think it is the best solution in marketing. They call it an evolution of sentiment analysis because they use more nuanced emotions. They take data and analyze it and provide themes and insights directly from the consumer.
The organization is about six or seven years old. They work with companies like Disney and Netflix.
Speaking unnaturally
With the technology they were using, they could expose what consumers and viewers were seeing. And what they were saying about programs. They utilized that information to learn how people speak unnaturally. They found that in a modern era with a lot of digital text, we tend to talk differently than we might otherwise because we use shorthand and emojis.
Learning new things 
Things change over time, so we have to keep learning. Many other applications have tried to do text analytics, but it requires a lot of training and data to get and understand a small sample, and Canvs has already done that work.
An ontology
Canvs has an ontology that they have cultivated through AI and NLP. They also have some social listening tools to see people on YouTube, Facebook, or Instagram.
The best bring-your-own-get-a-platform 
Erinn thinks that Canvs is the best bring-your-own-data-platform in the industry to identify what people are saying. Also, to identify how they are feeling about what they are talking about.
Any survey platform
The Canvs platform is intelligent and easy to use. It works with any survey platform.
It's quick and easy
It only takes a few clicks of the mouse, and most data sets get processed in one to two minutes.
Sentiment analysis vs emotions
Traditional sentiment analysis is positive/negative/neutral. At Canvs, they have their Canvs proprietary emotional mapping, with which they can identify forty-two core emotions. And they have a data science team who have spent many years getting to understand groupings around the core emotions.
Things change over time
People and language change over time, so they continue to upgrade.
The way people speak
Through the way people speak, they can identify and expose how they are feeling. And also the context in which they are feeling it. And they can work out what people are talking about.
Use cases
Canvs started in the media space. Currently, they work with companies like Disney to find out how well people are speaking about their airings, and to see how their movies are trending. They also do ad testings to see what people are saying about the ads.
The goal for the future
They would like Canvs to be the core platform for analyzing unstructured data for organizations, brands, research partners, and communities.
Links:
Email me your thoughts!
Sima@Infinity-2.com
Erinn on LinkedIn
Sponsors: