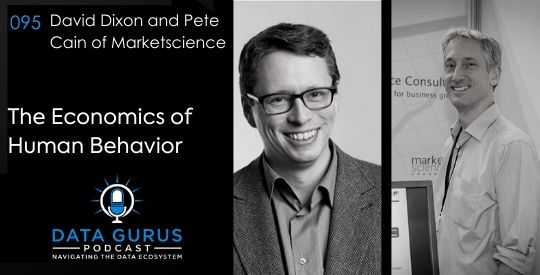 Podcast: Play in new window | Download
David Dixon and Pete Cain join Sima in today's episode to discuss marketing analytics and econometric modeling. 
David Dixon is the Managing Partner of Marketscience. Before launching Truesight (now named Marketscience), David was global CEO and managing partner of Ninah Consulting.
Pete Cain is the Executive Partner of Marketscience. Prior to the Marketscience merger with Truesight, Peter was the sole founder and CEO of Marketscience, which he established in 2012 with the goal of blending academic, commercially relevant analytics and strategic advice for business. 
David and Peter each have more than twenty years of experience in the marketing industry, with David focusing on marketing analytics, management consulting, and organizational leadership, while Pete's expertise includes commercial and academic experience in economics and marketing science designing econometric business solutions for blue-chip companies and organizations.
Marketscience provides custom application of the latest statistical and econometric techniques to inform marketing investment decisions and engages the organization through training and hands-on support. Marketscience offers various service models, such as Whether you are Do-it-yourself (DIY), Do-it-for-me (DIFM), or Do-it-with-me (DIWM). They not only measure ROI but help the client by managing and understanding it.
Marketing Analytics
Marketing is about economics, and about how consumers behave. If you think about marketing analytics as the subject, it is the economics of human behavior.
The benefit of having worked 12 years in the media agencies has given David a unique perspective of the end-user, and how marketing decisions are made in the absence of analytics.
Marketing Attribution
Once Marketscience has an understanding of the consumer consumption point of view, then they can figure out how best to market it, arriving at the decision from an economic perspective.
Consumer behavior has become a lot more complex and sophisticated over the last twenty years, when the more you charged, the higher the price, and the less volume you sell. Today, marketing works to shift those demand curves and shift people's perception of pricing, sometimes to obscure pricing or make them less sensitive to it. Therefore, the way consumer behavior is measured has also become a lot more complex and sophisticated.
Intel Case Study
Looking to reduce budgets, the CFO of Intel brought in Marketscience. Marketscience ran the models, and what they found was that long-term drivers tend to be more perceptual things that are what consumers are thinking, versus the economy, because people act on what they think. 
They were looking to understand how the perception of Intel as a technology leader was changing, and how it was changing by different kinds of important customer segments.
These models reveal opportunities to build a stronger brand and leverage brand investments and to reduce short-term investments because you have a stronger brand. When you have a stronger baseline that makes all of your short-term dollars work harder. 
The Future of Transparency
Both David and Pete agree that things are getting better as organizations try to bring more transparency in the day-to-day trading of digital media. There is much more awareness now, especially with the current COVID-19 event as more people are spending time at home. 
We will likely have to wait months or years to fully understand how this event has shaped the economy.
With our families in proximity, this could shift even more perceptions about the marketing environment and make stronger demands on brands to be more responsible and responsive. 
David states that as economists, rather than econometricians, it's vital to think on how this is going to impact the hearts and minds of people and the supply chains, and how this will all come together to shape the economy going forward. 
What they often see these days is they get results from suppliers, but they need to explain them to their stakeholders with sufficient detail to gain credibility, according to Pete. 
Clients can take the software that Marketscience builds and see where the parameters come from. They can also see where the decomposition comes from, where their response comes from,  and know that that is the genesis of the intelliwork. Thus, stakeholders can believe what they're seeing because they see precisely where the results came from.
Go forward and keep experimentation in mind. Use model insights, try to apply them, and remodel and continue to evolve your level of understanding through this process.
________________________
Email me your thoughts!
Sima is passionate about data and loves to share, learn, and help others that share that passion. If you love data as much as her, subscribe on iTunes and don't forget to leave a rating and review!