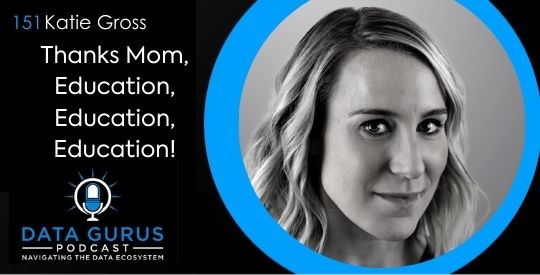 Podcast: Play in new window | Download
Welcome to another exciting and informative episode of the Dara Gurus podcast!
Sima is excited to have Katie Gross as her guest for today's podcast! Katie is the Chief Customer Officer at Suzy.
In this episode, Katie discusses her background. She also shares her secret to being a successful woman and talks about what Suzy is doing to help and empower companies.
Humble beginnings
Katie grew up in Plymouth, England. Her mother wanted Katie and her siblings to have everything she did not have, so she insisted that all her children had the best education possible.
Meeting different people
Katie met people from different places and different walks of life when she was at university. Being surrounded by smart and ambitious people opened her eyes to exciting new possibilities for the future.
Entering the market research space
Katie got into the market research space partly by choice and partly accidentally. She studied psychology and criminal justice at university and came out of that with an SPSS skill set. She joined a food and beverage company in the UK that dealt primarily with Italian private label products in UK grocery stores. Then she moved to London and worked for Mintel on their consultancy team.
Moving to sales
Katie started working for Mintel as a researcher and later moved into a sales position, which she loved. Having come from a similar role in market research, she was genuinely curious about what her clients were using and how they were doing things. That made it easy for her to come up with solutions to help her clients operate better, faster, and in a more educated way.
Staying in sales
Initially, Katie thought she would only stay in sales long enough to pay off her student debt. However, she remained there when she finally realized how much she loved being in a sales role.
A natural fit
At the time, sales was mostly a hybrid of selling to new companies and renewing current clients. Since then, sales in most companies have been separated into sales and customer success. So it felt like a natural fit for Katie to have managed a combination of sales and customer success teams throughout her journey.
Managing
Katie enjoys helping to shape and mold the people she manages. She also loves to see them succeed.
Moving to the USA
Ten years ago, Mintel opened a new division in the USA. So they asked Katie to move there.
A successful woman
Katie wants to be a strong leader for both men and women. Her secret to being a successful woman is not allowing herself to dwell on the negative and sexist comments and helping those around her to do the same.
At Suzy, there is a "Women at Suzy" group. The women also support each other.
Suzy
Suzy is different in that it owns a panel of its own. They are solving to eradicate the need for overlapping technologies in a fragmented market by moving everything into one place.
A platform
Suzy has created a platform where qualitative and quantitative can be integrated and run quickly and seamlessly with the same respondents.
Two kinds of teams
Some company's teams are getting empowered on their new journey of agile research by having a playbook and being educated around their new kind of responsibility. The more cumbersome bits are getting automated, giving them more time to be creative. Other companies, however, tend to buy a tool like Suzy's but do not know how to utilize it because they have never worked in an agile way before.
Empowering
Suzy is helping companies understand that they are there to help them automate and do things faster, and their tool will empower their teams rather than take away their roles and responsibilities.
Links:
Email me your thoughts!
Sima@Infinity-2.com