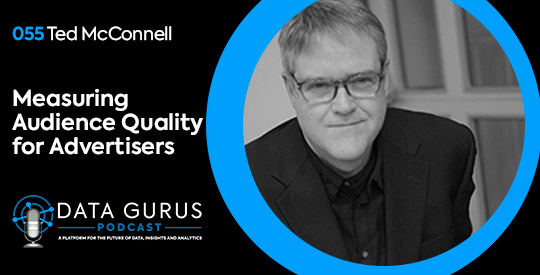 Podcast: Play in new window | Download
On today's episode, Sima Vasa sits with Ted McConnell, SVP of Lucid. Together, they talk about his background, how advertising has changed and what marketers need to do to improve targeting.
Finding His Way to Marketing
Ted spent about the first half of his career in technology communications where he built networks and operating systems. He transitioned into technology development and, when the Internet came along, marketing.
From there, he worked as a consultant for lots of data projects with various media companies. And now, he is a man with an unbelievable passion for data and data quality, steeped in the challenges and opportunities within the industry.
Changes in Advertising
Ted also shares how advertising has changed over the years. The landscape is fraught with various new channels and assumptions that marketers make about what consumers are doing.
"What hasn't changed is you still want to get the right message to the right person… and what has changed is how you get it there." – Ted McConnell
Access to consumers is now data-driven, going through these various channels. The data aids in understanding who the consumer is and how marketers should deal with each of these channels.
To Truly Improve Targeting
The industry has gotten more sophisticated with the technology that allows for more precise allocation of advertising campaigns to specific segments. But to Ted, we have not gotten better at targeting.
"What we've done is overcome the complexity of having many, many channels without necessarily becoming much better at getting to the right audiences." – Ted McConnell
Ted realized that the industry has yet to truly solve this problem in attribution. He set out to seek answers, realizing that the simplest solution to figuring out intentions is to ask the audience. And this pursuit eventually led him to Lucid.
"The 'who" is the principal driver and if you don't know that, if that's the missing link in your attribution, then you don't know anything." – Ted McConnell
Quick links to connect with Ted McConnell:
Sima loves to hear from her listeners with input, questions, suggestions and just to connect! You can find her at the links below!
Sima is passionate about data and loves to share, learn and help others that share that passion. If you love data as much as her, subscribe on iTunes and don't forget to leave a rating and review!