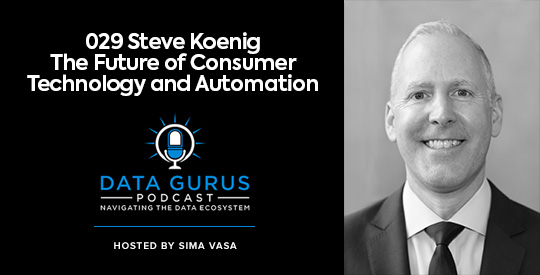 Podcast: Play in new window | Download
Steve Koenig is the Vice President of Research at the Consumer Technology Association (CTA), a US trade association for all consumer tech. Today he joins Sima Vasa to talk about the future of society with the continued rise of consumer tech, automation and AI.
"I think it's safe to say, in 2018, that technology is a mainstay of our society, whether its for work, business, or personal use. That dynamic is only going to just intensify." – Steve Koenig
Steve Koenig – Working at CTA
Today, consumer tech is everything from an iPhone to a Mercedes Benz. CTA's membership constituency reflects this. They have members like software developers, retailers, and anybody making or selling consumer tech in the US market.
They are best known for their trade show CES® – The Global Stage for Innovation, which is held in Las Vegas every January and in Shanghai every June. The show draws thousands of people eager to hear the latest and see the greatest technology coming into the market. In fact, this past January alone, over 180 thousand trade professionals from over 150 countries came to the world's largest tech event.
The Dominance of Smartphone
The smartphone continues to gain dominance in our day-to-day lives along with the rise of other smart devices like personal fitness trackers.
The smartphone itself is the anchor for a lot of endeavors like checking email, gaming and accessing various apps. And of course, there is the occasional phone call.
"The smartphone—that remains to be the center of the consumer tech universe." – Steve Koenig
Internet of Things
A robust connectivity rose the past couple of years. However, a sad reality has also become more obvious with the fast turnout of new technology.
We're not yet that far into the 21st century and the Internet hasn't been around for that long. But as a culture and society, we already take for granted the connectivity in the Internet.
Quick links to connect with Steve Koenig:
Consumer Technology Association
Sima loves to hear from her listeners with input, questions, suggestions and just to connect! You can find her at the links below!
Sima is passionate about data and loves to share, learn and help others that share that passion. If you love data as much as her, subscribe on iTunes and don't forget to leave a rating and review!