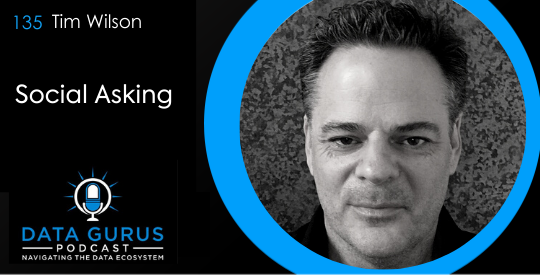 Podcast: Play in new window | Download
Welcome to another exciting episode of the Data Gurus Podcast! Today, Sima is happy to have Tim Wilson as her guest for the show. Tim is the CEO and Co-Founder of Qutee.
Tim's journey
After attaining a legal degree in the UK, Tim went to music school in Hollywood. He later returned to the UK, received some funding for a record label, and ended up touring with bands like Def Leppard and Alice Cooper and releasing some records.
In 2009, after gambling with a few commercial projects in the UK, Tim moved to New York. Then, in 2012, he and his business partner acquired some NLP technology and embarked on a slow process of looking for areas where they could use the technology in unique ways.
A comments platform
They built a comments platform over the following two years. It was a simple yet ground-breaking plug-in to filter user's comments. It could be used to listen, help engagement, and have smarter conversations with more insights.
A survey tool
They also built a survey tool that was used with some major health engagements, like the National Health Service in the UK.
Creating a social UX
They then came up with the idea of creating something bigger. Having already built a cutting-edge comments system that provided them with analytics, they decided to create a social UX. They wanted to provide consumers with smart conversations and a smart conversation experience while also engaging with them in a social environment and collecting qualitative and resilient insights. They hoped it would stimulate more participation in surveys and allow brands to create panels and focus groups overnight. That was the gestation of Qutee.
Investors
When Tim and his partner showed their investors what they wanted to do, the investors agreed to help them build it.
Starting small
They started as a small team, doing fundraisers from time to time, and eventually got Qutee up and running.
Influencers
They started working with three or four gaming tech influencers very early on when they were still in the alpha stage of their development. For the next two-and-a-half years, the influencers pushed their audiences towards Tim and his partner while they drove insights, created reports, and perfected their technology, analytics methodology, and reporting.
Pre-Covid
Just before Covid, they were about to go to market. Not able to do that as a result of Covid, they accepted that things would move slowly and decided to keep working on their API and technology. Now, things have started to accelerate.
Qutee
They call Qutee social asking. It is a place where you can have an open-ended conversation. You can share it with your audiences via social media and CRM and use influencer audiences to drive conversations. People comment and answer via polls, and it gets analyzed in real-time. They also have an analytics dashboard, and with the click of a button, they will give you a comprehensive call-on-call report.
Their focus
Qutee focuses on allowing brands to engage their passionate audiences, social, and CRM at scale within hours.
Insights methodologyQutee's insights methodology is superior to sentiment analysis because they ask users to type their comments or sentiment and then analyze them using augmented/collaborative AI.
Report
They then create a comprehensive and relevant report showing all the participation numbers and NPS they pull out using the AI representative comments. They also give the polls, the conversational breakdown, topics, and the representative comments across verticals of tagging and NLP.
Consumer-focused
Qutee is consumer-focused. They have created an environment where consumers feel happy to collaborate with the brands and feel their voices are heard. They can also work on an industrial scale.
Games
For games, it is vital to get the player's perspective. Getting information and insights on the issues they are experiencing and how they think they should get fixed is very important. That is where Qutee comes in because it allows users to see things from the consumer's perspective.
Passionate consumers
Passionate consumers are those who are wedded to your product and organically spread faith about it. They are the people to who you have to listen.
Comments
So far, Qutee has collected 160 000 comments. Their average comment length is five times that of YouTube.
Qutee users can also see some of the insights, and you can share things with them to drive further qualitative discussions.
The best of all worlds
With Qutee, you have the commenting element, the NLP element, and you also have the polls intersecting.
Qutee feels social
Qutee feels social and friendly, just like a regular experience on social media. That is why it has been successful. The only thing you are required to pay for on Qutee is the reports.
Passionate audiences
Qutee is all about having passionate audiences and people who care. They are all about truth, passion, and quality.
Links:
Email me your thoughts!
Sima@Infinity-2.com
LinkedIn
Twitter