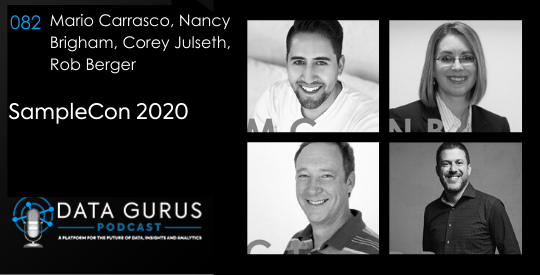 Podcast: Play in new window | Download
Sima has a special treat in store for today's show. As Chair of SampleCon, she and the other Board Members have been knee-deep in planning for the 2020 conference to ensure its continued success.
She will be chatting with some of the board for a peek as to what's coming and the importance it holds for each member.
For Sima, she loves that there's no other conference that focuses specifically on online data collection and sampling and she finds that refreshing. Additionally, the conference is a way to influence, shape and collaborate with other leaders to share best practices and network with other people. 
Representing the Buyer Community
Corey Julseth, Managing Director of Sample Strategy at J.D. Power weighs in with his opinion as the only buyer of sample on the board. 
Corey thinks sellers are very sophisticated in their approach, leveraging marketplaces and programmatic, but the buyers are somewhat lagging, and this is a great opportunity to represent the buyer community in the SampleCon arena.
At J.D. Powers, Corey finds it necessary to stitch together many suppliers to support a single syndicated study, so it becomes really challenging from a purchasing standpoint. They're looking to evolve that landscape and SampleCon provides a venue and forum to collaborate with others who do that very well.
Corey appreciates that there's going to be a healthy mix of familiar topics and a fresh line-up of innovative speakers. Another great aspect he's looking forward to is the networking because SampleCon is a well-attended conference across a diverse audience of buyers and sellers.
He desires two takeaways for the attendees, and the first is an exposure and opportunity to participate with the latest and greatest around sampling innovation, as this conference is very unique in that it focuses on only sampling. Second, Corey wants people to have fun networking and collaborating with their peers in the industry.
Community of Like-Minded Folks
Sima hears from Nancy Brigham, SVP of Global Head of Sampling at Ipsos Interactive Services.
It is both Ipsos's and her own personal belief that as an industry leader they need to help drive the industry forward and help shape the direction that it's going. SampleCon provides that platform to drive that change and gives them a community of like-minded folks who have the same passion and commitment to sample. Not only does it benefit their clients and company, but it also benefits the industry as a whole. 
One of the things Nancy likes about SampleCon is suggested in its name: sample conversation. With frank, transparent conversation about sample across many different climes and types of industry stakeholders, the bar is raised for all of them: buyers, sellers, and respondents.
Nancy shares that she is most excited about the focus on new, innovative approaches in sample and data collection as it relates to the respondent. A lot of what is happening now in automation benefits respondents directly in various ways. The more we can reduce the cognitive load on respondents the better data will be. 
Nancy encourages frank conversations with fellow attendees because if someone has an issue or question there's a very good chance someone else does, too so this is one way that networking can be valuable. There's a finite pool of respondents and they all draw from the same pool.
Content on Hispanic and Minority Sample
Mario Carrasco, Co-Founder and Principal of ThinkNow
shares the two main reasons he is attracted to SampleCon.
His entry into market research was in the sample space, and at the time there wasn't any industry conference based on sample, which was something that he had become passionate about. 
Additionally, SampleCon since early on has been one of the few conferences in the market research industry that has really made a consistent effort each year to include content on Hispanic and minority sample reaching minority audiences in the US.
Mario is enthusiastic about the change in mission from moving on from just being a yearly conference and being seen more as a resource for the sample industry. His hope is to see SampleCon expanding into being seen as a thought-leader and a springboard for conversations in the industry and content throughout the year, where people can engage and learn about what's going on in the sample industry and how to better their respective businesses.
Mario wants attendees to get inspired to grow their businesses in innovative ways.
Networking with Friends that Feel Like Family
Rob Berger, Managing Director of Market Communities at Maru/Blue is Vice-Chair of SampleCon's Board of Directors, and he sees
SampleCon as a great opportunity to get out of the office and network with other people in the industry. He noted that you're often friends with the very people you're competing with. 
Rob maintains that this is a great industry of folks who are passionate about delivering respondents in a quality fashion to clients. SampleCon is also an open forum where everybody can offer their views, controversial or not.
Rob is excited about SampleCon's expansion and a wider array of topics around data and sample. Rob hopes everyone leaves there feeling like family, and takes that feeling and what they've learned back to their businesses. 
Sima loves to hear from her listeners with input, questions, suggestions and just to connect! You can find her at the links below!
Sima is passionate about data and loves to share, learn and help others that share that passion. If you love data as much as her, subscribe on 
iTunes
 and don't forget to leave a rating and review!