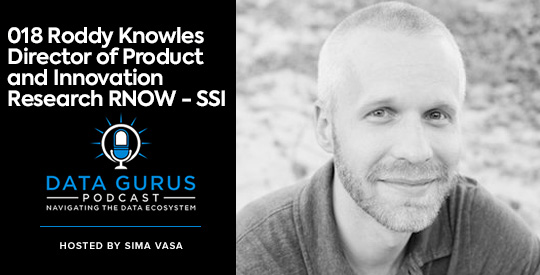 Podcast: Play in new window | Download
In today's episode, Sima Vasa talks with Roddy Knowles. Roddy is the Director of Product and Innovation Research at Research Now SSI. His leadership runs the machinery that leverages technology to effectively support products.
Technology underpins processes by which innovation comes to fruition. This is what Roddy and his team are working to achieve.
Technology Behind the Process
Today, tech advancements are coupled with ways to make more efficient various research processes. This is seen from data collection to generation of reports. There's a constant goal to make work at the back end of everything easier and quicker.
As Roddy says, there are lots of technologies working as the machines underneath all these other technologies that run research methodologies.
Roddy Knowles Diving Deep into Automation
Process automation is key to a streamlined user experience. It opens a lot more opportunities for the collection of data. In addition, it equips researchers with the means to deliver fast and efficiently.
But there's been a clamor to shift the conversation away from automation in a broad perspective. People have become more critical of what it actually brings to the table.
"Let's stop talking about automation itself, but what is it actually doing. Why are we using it? How is it improving data analysis?" – Roddy Knowles
Not for Everyone and Everything
It's important to remember that respondents come from different marketing segments. This means that they have different needs. Naturally, they will desire different experiences from products.
Engagement differs from one person to another. Research is just as specific.
"It's not necessarily a one size fits all… Which is the way that research is often designed." – Roddy Knowles
To hear more about Roddy Knowles' insights on research, technology, and brand experience, download and listen to the episode!
Quick links to connect with Roddy Knowles:
Sima loves to hear from her listeners with input, questions, suggestions and just to connect! You can find her at the links below!
Sima is passionate about data and loves to share, learn and help others that share that passion. If you love data as much as her, subscribe on iTunes and don't forget to leave a rating and review!