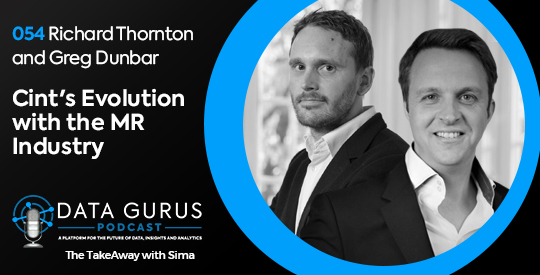 Podcast: Play in new window | Download
The world's insight exchange and management platform is evolving with the market research industry. On this first episode of our second season, Richard Thornton and Greg Dunbar join Sima Vasa in a conversation about the changes astride at Cint.
A 20-Year-Old Vision
Cint is a technology company headquartered in Stockholm. Built 20 years ago to fit into the European market research industry, it has since achieved a global presence. Their platform helps deliver solutions to clients and partners in order to transform how they gather online survey data through insights.
Richard, COO and Deputy CEO at Cint, says that their founder built the company with a mission to simplify the industry's supply chain. They wanted to make it more readily available to customers and partners. This would allow for smarter, faster and cost-effective access to insights to help drive decisions and outcomes.
Simplifying a Fragmented Platform
It took a while for the market research industry to be ready as it is today for Cint's disruptive vision back then. The adoption of the type of sampling and platform that they offer has become more acceptable in the last five or six years.
"We are all aware that in market research, the supply chain is fragmented, antiquated and inefficient." – Richard Thornton
But the language has changed. The conversation has changed. Working in the changing environment has prompted Cint to start reshaping and redefining the business to cater to today's industry.
Evolving with the Industry
Greg works as the EVP of Enterprise Solutions and recently joined Cint to help in its global acceleration. He admits that he is new to the market research industry. On top of growing the company, Greg wishes to help transform the business into a genuine SaaS platform offering fully-automated end-to-end solutions.
They hope to achieve this not through a big shift in strategy but by using the existing platform and their tools that have evolved through Cint's twenty years in the industry.
"It's evolving the toolset and the roadmap to enable our market research customers to actually manage their entire supply chain in one place." – Greg Dunbar
Quick links to connect with Richard Thornton and Greg Dunbar:
Sima loves to hear from her listeners with input, questions, suggestions and just to connect! You can find her at the links below!
Sima is passionate about data and loves to share, learn and help others that share that passion. If you love data as much as her, subscribe on iTunes and don't forget to leave a rating and review!