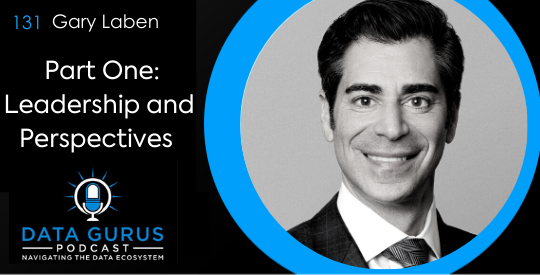 Podcast: Play in new window | Download
In today's episode, Sima is happy to welcome you to the podcast, which is the first part of an exciting two-part interview that she did with Gary Laben, the CEO of Dynata.
Today, in the first part of the series, Gary talks to Sima about his journey that led to where he is today. He also talks about his general leadership style and the impact Covid-19 has had on him as a leader and on his business. They close the episode with Gary giving a deeper understanding of how he views the landscape and where Dynata's core area of focus lies within the market.
A perspective of Gary's career and how he got to Dynata
Gary started his career by working his way up in the culinary world over the summers while in college. He was offered a position in a data marketing business, which he did for a summer before graduating. He enjoyed that so much that when he got offered a full-time role in the data marketing business, he put everything else aside to try out the world of data. From there, he moved on to various roles within different data companies.
Moving over to Dynata
Although he had never worked with first-party data accessibility before, it had always fascinated him. So, when an opportunity arose on that side five years ago, he moved over to the company now known as Dynata.
Gary's experience at Dynata
Gary has had tremendous experiences at Dynata and even though the industry is rather tight right now, and people have been moving in and out of the organization, Gary has enjoyed seeing his relationships continue throughout the industry.
Learning the business
As he learns the business, Gary often jokes that even after five years, there is rarely a meeting that he attends where he knows anything more than anybody else about the subject at hand regarding tools, techniques, and capabilities in market research.
Gary's favorite part of his job
Gary loves to meet with clients. The best part of his job is to spend time with the folks interested in working with Dynata, even though things are getting done virtually for the most part right now. The second best part for him is to do little talking and still come out way ahead because his clients will have learned a lot about what Dynata can do better and what they need to do in the future.
Getting back out
Now, the people at Dynata are talking about ways to make it possible for them to get back out to their offices around the world. It appears that Asia will be the first place to which Gary will be able to return.
Virtual engagement
At Dynata, they engage with their clients virtually. They also have town halls where they regularly engage at a regional level and an office level. Gary sometimes even gets asked to appear virtually and unannounced, at monthly team meetings.
Gary's leadership style
At Dynata, the leadership style needs to be empowerment. They cover all geographies and have broad service offerings, so they have leaders of both geographies and functional areas within the business. Gary feels that he has less familiarity and experience in particular sectors than many of those leaders have. Because of that, he loves to give those people autonomy. They have an aggressive and methodical goal-setting and management process, so allowing people to operate very independently within the boundaries of execution, without having oversight, is the key.
Humor
The pandemic has shone a light on things far more important than people's day jobs. Being able to approach leadership with consideration to priorities, and looking for places to inject some humor, is very important for Gary right now.
Covid
Covid affected the company's goal-setting process in that they had to think differently. They set themselves up as a business to preserve liquidity and to ensure their employees were safe.
New goals
One vital new principle they set was to figure out how to thrive.
An aggressive expansion strategy
They set out an aggressive expansion strategies in parts of the business. That was so successful that they decided to continue using those strategies.
Acceleration of change
They also realized that the acceleration of change could happen at any given time and are currently happening a whole lot faster than they were before.
Resilience
Dynata decided to embrace the very thing they feared at the beginning of the pandemic and apply their newly-acquired resilience to their day-to-day operations going forward. So they started looking for ways to get to the best solutions as quickly as possible.
The business within which Dynata works
Dynata is in the provision of first-party data to drive insights and answers businesses and companies need to drive and execute their strategy and day-to-day success. They surround that with several products and services that facilitate their access and use to the data to drive those answers even better.
Links:
Email me your thoughts!
Sima@Infinity-2.com
LinkedIn
Twitter