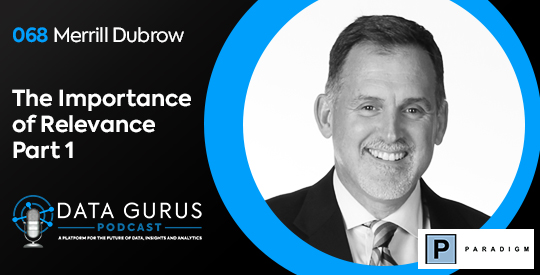 Podcast: Play in new window | Download
Today's guest is Merrill Dubrow, the President, and CEO of M/A/R/C Research. He shares with us some important industry perspectives on automation and the consultative role of insights companies. This is an episode for industry professionals who wish to stay relevant in this field of work.
Six Decades of Excellence
Merrill Dubrow has been leading his company towards its 6th decade. He has a passion for building strong relationships and a mission to drive innovation. Through the years, he has witnessed the evolution of the insights industry. 
Particularly, he mentions in this episode how the automation of information gathering such Do-it-yourself information kiosks, has done a massive impact on the industry. Merrill further shared that clients want responses quicker and faster, and yet want them a lot less expensive. 
"I think that's the future, I think that's really where it's going and you're gonna hear a lot of clients building storefronts and a lot of companies coming out with platforms such as Zappi ⁠— that's where it's gonna be headed in the next 3-5 years." – Merrill Dubrow
Insights Companies and Management Consultancy Firms 
Sima posed a very important question about the gap ⁠— as it relates to higher-level analysis or consultation. Most of the time, management consulting companies are usually in charge of integrating business strategy based on these analyses. However, Merrill provided his point of view on this gap.
"Two things ⁠— if clients are gonna continue to use DIY platforms, they need analysis and consultation. If they do, shame on the insights. The company such as mine and other large research insight companies out there haven't done their job. If we have, that work would come to us." – Merrill Dubrow
In addition, Merill stated that in reality, clients need companies to come in for consulting and marketing. This is something that insights companies have not yet done in the past and if they continue to not meet this client demand, the business will go elsewhere. 
"There are a  lot of things happening to a lot of companies because the balance between today and tomorrow, you can't minimize that symmetry. It is the biggest challenge ever. It's one thing to know where the industry is going it's another thing to position your Titanic-of-company to get there and it's not easy at all." – Merrill Dubrow
Challenge to Stay Relevant
Merrill points out the importance of staying relevant in the industry. He discusses the significance of keeping clients, employees and staying on top of industry events. 
"The reality, when you talk about longevity, it's relevancy. You got to be relevant. You gotta be relevant in three marks — clients, employees and industry." Merrill Dubrow
He gives a blow-by-blow account of how to stay relevant in this industry. Some pointers he raised are offering new products and services to clients, making sure fitting Project managers assists them and likewise, keeping these employees happy, by engaging them with a positive corporate culture.
Quick links to connect with Merrrill Dubrow:
Sima loves to hear from her listeners with input, questions, suggestions and just to connect! You can find her at the links below!
Sima is passionate about data and loves to share, learn and help others that share that passion. If you love data as much as her, subscribe on iTunes and don't forget to leave a rating and review!