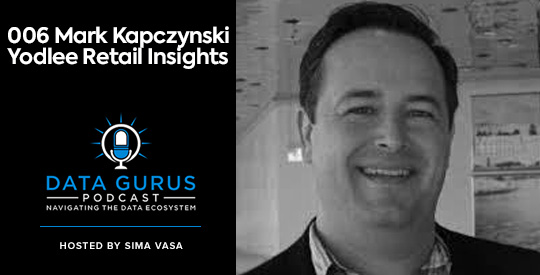 Podcast: Play in new window | Download
Today, Sima Vasa talks with Mark Kapczynski. Mark leads the retail and restaurant shopping insights at Yodlee. They provide connectivity between fintech companies – financial technology apps – and the data within financial institutions.
Becuase of this connection, Yodlee gets to see consumer financial transactions and that translates into shopping behavior.
Data Collection
From this data, Yodlee can determine how many times do people go to McDonald's, how many times do they buy online or do they have a Pandora subscription. The transactions have date stamps but not timestamps.
Potentially, Yodlee can get information online and offline depending on how the customer pays. For instance, if a customer buys something on an E-commerce site and they use their debit or credit card they can compare that to the purchases the customer makes at a brick and mortar department store. This data is used to look at the distribution of online and offline behaviors.
Yodlee Taco Stand Case Study
Two different Mexican fast food chains were compared, a big publicly traded one and a more local regional one. The local guys swore they had the same type of customers.  When Yodlee analyzed the data, it showed the big company's customers shopped at Whole Foods, Trader Joe's and chose organic foods while the smaller local company's customers shopped at the dollar store.
"We help folks that take our data and the insights that come from it and then are able to advise the clients on what they should be doing." -Mark Kapczynski, Yodlee
In the end, it helps the smaller guy understand who is their customer and stop wasting money on advertising that won't lead to foot traffic. A more likely solution is partnering with the dollar store and offering coupons for shoppers to visit their taco stand.
Mark Kapczynski talks Competitive Benchmarks
The benefit of Yodlee data is they have the whole suite of data consumers are spending on and all the businesses they are interacting with. They can compare how much a consumer spends at McDonald's vs. Wendy's vs. Burger King in a particular area and look at the market share between them.
Big Guys Going Local
Yodlee works with national or very large regional companies that want to execute on a local level. Smaller local guys are hard because they already know their area.
The larger guys that are more data-driven want to know who to optimize their media spend in areas where they have a high market share and protect that. They also want exposure where they have a low market share and want to win that business. They can put their media to work around the specific strategies for the areas they want to work on.
To hear more about what Yodlee is doing, download and listen to the episode!
Quick links to connect with Mark Kapczynski and Yodlee:
Sima loves to hear from her listeners with input, questions, suggestions and just to connect! You can find her at the links below!
LinkedIn
Twitter
Infinity-2.com
Sima is passionate about data and loves to share, learn and help others that share that passion. If you love data as much as her, subscribe on iTunes and don't forget to leave a rating and review!