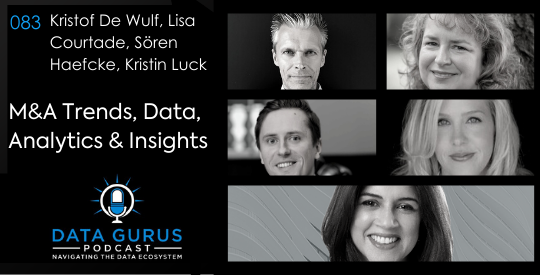 Podcast: Play in new window | Download
Sima joins some of her peers on a panel discussion as it relates to M&A trends, what's going on in the industry, and some insights for founders, as they consider their alternatives for the future.
In light of the recent acquisitions for staggering amounts of money, such as SAP acquiring Qualtrics for $8B, Tableau being acquired by Salesforce for $17B, and Bain Capital acquiring 60% of Kantar, today's show will focus on key drivers of investment and M&A activity in market research.
Listen in to this mashup, as they help to de-mystify the big questions and considerations that founders often have.
Global Market Report from Esomar Congress
The GMR is a wonderful market trend report that Esomar Congress publishes each year. It is free for members and can be purchased on their website for non-members. 
The first place Kristin Luck, Advisor at Oberon Securities and host of this panel, flips to is the helpful chart that shows where industry growth is coming from. This chart is always located around pages 32 or 33, and this year you can find it on page 33.
Kristin finds it especially interesting this year because, for the first time ever, traditionally-defined market research is in decline globally by .3% over the last year. 
The growth of the industry is coming from verticals like surveys software, social media monitoring, consulting firm research, IT telecom research, and syndicated research. 
Investments and incoming money are going more towards these tech-centric verticals.
What Does This Growth and Monetization Ability
  

Mean for Traditional, Full-Service Research Firms?
Panel Member Sima Vasa, Founder of Paradigm Sample and Advisor of M&A services at Oberon Securities, takes the lead on addressing the answer to this question.
It will be challenging for traditional market research companies because of new methodology. As a founder, you must know what you want. You can't be reactive. It's imperative to understand your goals and put together a plan for proactive implementation. 
Although it may be tough, Sima feels there are still opportunities to stay in the game and partner with other companies to specialize. She provides some examples of companies that are doing very well providing vertical specialization and suggests other options for traditional, full-service companies. 
Is There Space for Research Generalists?
Lisa Courtade, Executive Director and Global Consumer Insights  at Merck and new Chairperson for the Insights Association, tackles this question.
Lisa thinks that the answer lies in understanding the needs and the problems that you have today that you're trying to solve.
Traditional research generalists are a shrinking pool. You're looking for that full complement, that missing piece. Often that missing piece is a new start-up or an agency that specializes in an emerging area. 
Industry Trends and the Impact of M&A Activity
Sören Haefcke, Vice President of Bain Capital, addresses this topic.
What the traditional players need to do is to adopt some of the methodologies out there in order to be able to compete fully in the marketplace, which is his perspective.
One of the great things about technology is that it's very accessible to anybody. Great customer access, great customer understanding, and a great understanding of what the data means are things that are very hard to replicate in many cases.
Sören predicts that bringing together a traditional approach with a more tech-driven approach is the way the industry will go in the long run.
Advice for Founders Around Positioning Your Firm for Funding
Kristof De Wulf, Co-Founder & CEO of InSites Consulting, provides direction on this matter.
First and foremost, it is important to make sure that you are ready.
As Kristof explains, "ready" involves many considerations: being mentally ready, making sure that everyone is aligned to do this, that it is the best model going forward, do you need private equity money, or is it a strategic sale where you simply carry on organically without any extra funding.
Kristof mentions that alignment and timing are also a part of being ready. There is a lot of preparation involved, and it's best to bring in professionals to help guide you through the process.
Don't underestimate the impact it has on your daily business. It takes quite a long time to go through the transaction.
There's more than money in the evaluation now, and Kristof shares more of these important aspects to consider.
The Relationship is Key
Panel members weigh in and agree on the necessity of building relationships. If you want a tech service, you can get that, but without the client, you have nothing.
If you are considering selling or merging your company, you must  
ensure that you understand the client process while doing this.
Post-acquisition service is detrimental to the business, and the reasons why are discussed.
Triggers That Are Driving High Valuations
Kristin poses the most annoying question they get on a daily basis to Sima to Sören: "What are reasonable multiples that you can expect?"
As Sören reports, this is a hard question to generalize, especially in this industry, because it depends on so many factors, and he expounds on these factors.
From Sima's experience, she agrees with Sören's summation and adds that it's really hard for founders to have that "crisp story", such as "What do we do, why do we exist, and what's the value we bring to the industry?", because they put their blood, sweat, and tears into their business. 
Key Takeaways
Each panel member offers key takeaways and parting thoughts on specific subjects, such as trends, M&A, founders, and research buyers.
_______________________________
Sima loves to hear from her listeners with input, questions, suggestions and just to connect! You can find her at the links below!
If You're A Member of Esomar Congress and Didn't Receive a Link to the Webinar, Please Email Kristin: 
Kristin@scalehouse.consulting
Book Mentioned:
Marketing is Finance Is Business by Chris R. Burggraeve
Documentary Mentioned:
Sima is passionate about data and loves to share, learn and help others that share that passion. If you love data as much as her, subscribe on 
iTunes
 and don't forget to leave a rating and review!