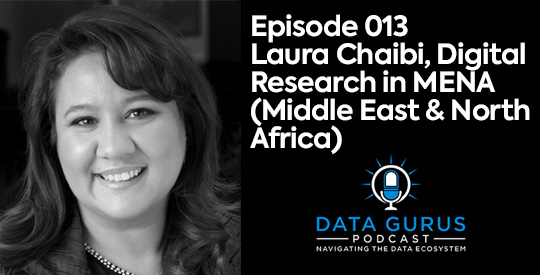 Podcast: Play in new window | Download
Laura Chaibi has enjoyed a twenty-year digital career that started when she moved from Canada to UK. She got into digital media measurements and research when the industry was cutting-edge, hence progressing and growing with it. Her career cuts across media, telco, and digital brands like Yahoo, BBC, Orange, AOL, and the Middle East Broadcast Center, which she now works for as the Head of Market Intelligence and Syndicate Digital Data.
Laura is CIM qualified and was awarded women of tomorrow status as one to watch in media by the IPA. She is on several advisory boards in the US as well as international entities like WiRe and i-com, actively supporting policy making for digital media.
Laura Chaibi – Career-Altering Frustration
Laura's international role opened her eyes to how difficult it is to conduct her job in the Middle East. Out of sheer frustration of working with some of the biggest brands in the world and failing to get any conclusive information in the region, she moved to the foreign land.
"Someone's gotta figure out why it's impossible to do our job." – Laura Chaibi
She's experienced Middle East and North Africa (MENA) for eight years now. She was coming back and forth for her previous job in Yahoo for five years before eventually settling in Dubai.
Figuring Out the Root Cause
With her research, Laura found out that most of the countries in the MENA have no establishment survey. The underpinning for information needed to effectively conduct sampling, market sizing, recruitment strategies, and a lot more data gathering tools is practically non-existent. This clearly jeopardizes the chances of meeting the need for accurate and representation in outputs to make decisions from.
"If you haven't got a framework to start with, how do you know who to speak to?" – Laura Chaibi
Even if an area did have a source for these information, data can quickly become outdated. This is mostly due to the dynamic movement of people in the regions. In UAE alone, at least 80% of the residents are expats tied to working visas.
Overcoming Endless Challenges
When Laura moved in three years ago, the region is nearly at 80% mobile consumption. She hit a dead end—she did not have a recruitment strategy that will allow her to recruit off websites and through apps. From there, she faced a lot more struggles before she finally achieved the results she wanted.
To hear more about Laura Chaibi's escapades in digital research in MENA, download and listen to the episode!
Quick links to connect with Laura Chaibi:
US Patent & Trademark Office Application
Sima loves to hear from her listeners with input, questions, suggestions and just to connect! You can find her at the links below!
Sima is passionate about data and loves to share, learn and help others that share that passion. If you love data as much as her, subscribe on iTunes and don't forget to leave a rating and review!