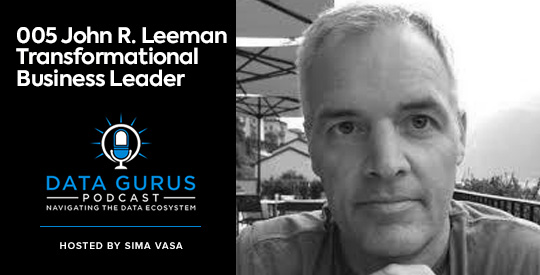 Podcast: Play in new window | Download
John R. Leeman is the co-founding and managing director of True Customer. They provide customer-centered marketing, media, analytics, content, and eCommerce consulting that drives scalable growth.
John R. Leeman – From Advertising to CMO
John started in the traditional brand and advertising business. He worked in the on major brands such as Campbell Soup and General Mills and Johnson and Johnson. John then moved on to work in digital CRM and media for companies such as Microsoft, Procter and Gamble and American Express.
CMO to Entrepreneur
John melded his two areas of expertise together to begin work in the CMO field. His stint at Fresh Direct as chief marketing officer was an invaluable and exciting experience for him. After his work with Fresh Direct, John took the leap to entrepreneur. He co-founded True Customer in November 2013.
Why the C-Suite Changes are Scary
The C-Suite is always interested in optimizing the business. There is a lot of money that goes into marketing and most respect that marketing is an investment and not a cost and there's a certain amount of return that is happening with the marketing today.
When you talk about radical changes in how you do your marketing investment, it's scary. Companies wonder if it will be successful because you cannot go back and undo it. It's not visible or easy to figure out how this optimization, analyses and analytics will work.  They want the benefits but are not sure which choice to make.
Big Companies, Big Steps
You have to have an attribution solution in place. For half of the Fortune 1000 companies, don't have anything, believe it or not. The first step for them is huge because they have to figure out something to do.
The bigger the company is, the more conservative their practices are supposed to be. – John R. Leeman
It's tough because they have a lot of choices. Everyone positions their product as the solution to all of this.
Marketing Mix Modeling
The other half of the companies are using marketing mix modeling. The big decision for those companies is what do they do with that data. Do they stop looking at it if the ROI for TV says a $4.00 ROI for one tool and a $6.00 ROI for another? Which is right?
For these companies, it becomes a sort of paralysis. They've been telling finance and everyone else for years and years how supposedly how accurate or inaccurate this is so now what?
To hear more about John R. Leeman and his company True Customer,  download and listen to the episode!
Quick links to connect with John R. Leeman:
Sima loves to hear from her listeners with input, questions, suggestions and just to connect! You can find her at the links below!
LinkedIn
Twitter
Infinity-2.com
Sima is passionate about data and loves to share, learn and help others that share that passion. If you love data as much as her, subscribe on iTunes and don't forget to leave a rating and review!