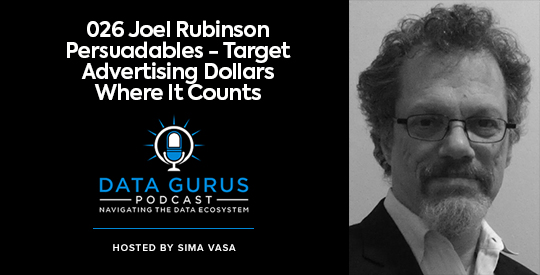 Podcast: Play in new window | Download
Joel Rubinson, founder of Rubinson Partners, Inc., joins former colleague Sima Vasa today. They talk about how digital analytics can be intercepted with the theory of recency to create great strategies. Joel also discusses targeted advertising, and why surveys are important to improve marketing.
"There's a need for survey because you can't learn everything you want from digital exhaust." – Joel Rubinson
Joel Rubinson – The Persuadables
In order to address the struggle of figuring out fragmentation in advertising, Joel published a white paper titled The Persuadables. Viant and Nielsen Catalian Solutions (NCS) collaborated with Joel in this groundbreaking research.
The study intercepted two analytic frameworks that weren't brought together yet. The consumer dynamics framework used reflected customer loyalty or buying rate towards a particular brand. When intercepted with the theory of recency, they were able to arrive at interesting results.
Intercepting with Recency
Joel had also worked with late Erwin Ephron, father of recency. One lunch, they were playing around with the idea of applications of the theory in the digital context. Suddenly, Joel found himself drawing curves.
Soon, they were able to come up with an idea for media optimization. Erwin passed away before the research could take off, but Joel pursued it. He approached leading digital ad network Viant and got into a partnership with NCS, which had a massive frequent shopper database.
Research to Target
They classified shoppers on two dimensions. They retrieved data on how much customers are currently buying from the brand, and whether or not they're probabilistically close to an upcoming purchase of the category.
Coupled with more techniques, they are able to generate insights helpful in targeting the right segment. This kind of evidence-based research is paramount to creating better advertising strategies.
"Targeting the right segment seems to always pay off. It is a repeatable, winnable strategy. So this should really be a basis for media planning." – Joel Rubinson
Quick links to connect with Joel Rubinson:
Sima loves to hear from her listeners with input, questions, suggestions and just to connect! You can find her at the links below!
Sima is passionate about data and loves to share, learn and help others that share that passion. If you love data as much as her, subscribe on iTunes and don't forget to leave a rating and review!