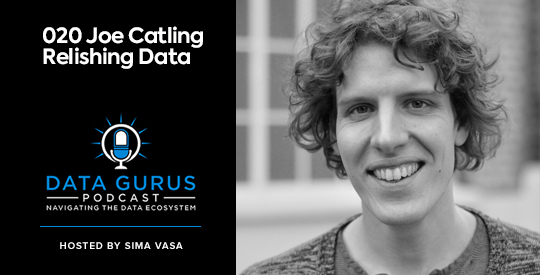 Podcast: Play in new window | Download
Joe Catling is the Head of Analytics at Relish Research. Today he sits down with Sima Vasa to discuss marrying client or 'big' data to market research data, the challenges of doing so, and the future of advanced statistical or machine learning techniques.
"What I think we're going to see is a democratization of a lot of machine learning, big data tools, which can make them more accessible for people." – Joe Catling on future perspectives
Joe Catling – From Mathematics to Analytics
Joe studied mathematics in university and eventually managed to transition into a standard research track. This enabled him to focus on advanced statistical techniques as they pertain to market research.
He currently leads a team of thirty based in London. While there's a standard suite of research techniques available for those in his field, his role also entails finding new and creative ways of doing things.
Marrying 'Big' Data and Research Data
There's a rich data set that you can't get any other way apart from research, including psychographic data. Meanwhile, companies are collecting vast amounts of information on their customers and prospects.
Marrying these two data sets should be a natural part of the process in market research, but it seems more people hit a dead-end and fall apart in the fusion. This is mostly due to a lack of awareness of its importance.
"That's when, I think, you end up with research and big data that kind of become more than the sum of their parts. That you get to insight that you really couldn't have done in isolation, from one just data source or another." – Joe Catling
The Challenge: Client Teams
Few clients would necessitate the need for combining data sets as if it's not an obvious part of the process in market research. A lot of it seems like a function of structure in the client teams.
"This idea of coming up with something where both feed in and both are integral to the processes is something that I think not a lot of people are thinking and talking about it in that kind of way." – Joe Catling
Quick links to connect with Joe Catling:
Sima loves to hear from her listeners with input, questions, suggestions and just to connect! You can find her at the links below!
Sima is passionate about data and loves to share, learn and help others that share that passion. If you love data as much as her, subscribe on iTunes and don't forget to leave a rating and review!