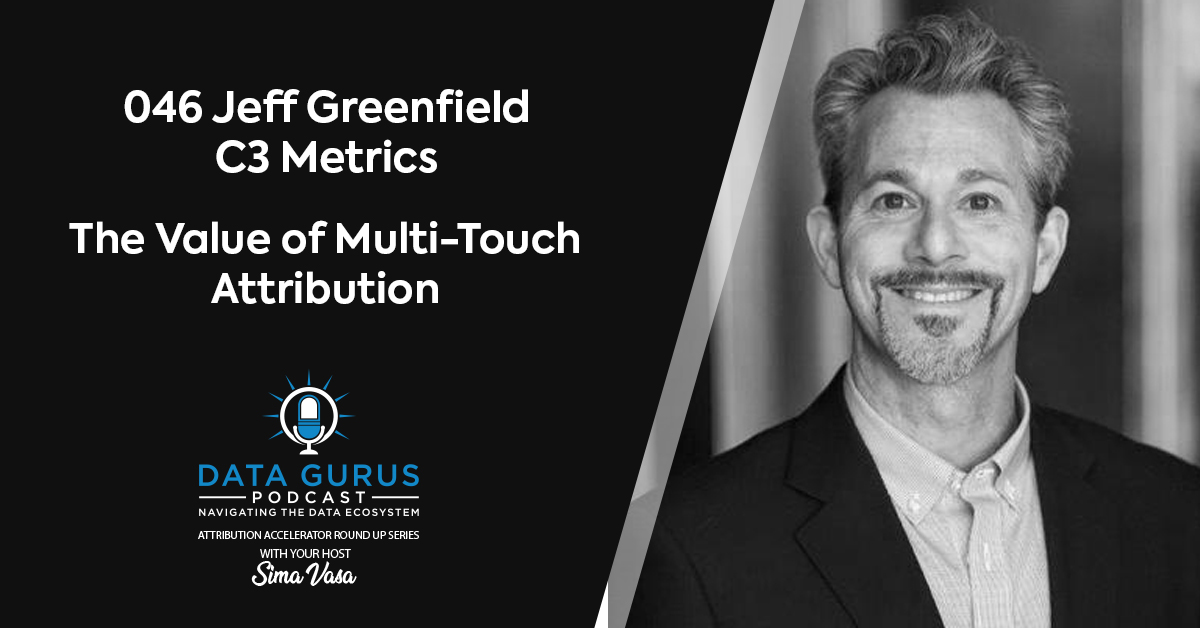 Podcast: Play in new window | Download
Jeff Greenfield sits with Sima Vasa today for the sixth installment of this Attribution Accelerator round-up series. He shares how marketing mix models differ from multi-touch attribution, as well as how the latter helps marketers play in the modern space.
Jeff Greenfield – C3 Metrics and Attribution
Jeff is the COO and Co-Founder of C3 metrics. He says that attribution in the way C3 plays it is a convergence of all things coming together.
Prior to multi-touch attribution, marketers were stuck with broad, top-down marketing mix models. A progressive company gets a new model done every year and this model will dictate budget allocation. However, there are no clear-cut goals in terms of a feedback loop to direct marketing channels.
Marketing Mix and Multi-touch Attribution
While the next model will help in adjustments, there's no real feedback to the actual ground people in terms of telling them what they have to do.
"Multi-touch attribution tells you how to allocate it within that specific channel and cross-channel at a very, very granular level." – Jeff Greenfield
Marketing mix allows marketers to know if they have hit their costs. Meanwhile, the multi-touch attribution tells which media channels are working. This is key to effective marketing, since the media environment is so fragmented.
Marketing Then and Now
Back in the days, buying the services of Carson will ensure that 80% of America will know of your brand and services the next day. But now, with all the distractions and wide array of things consumers are exposed to, it is difficult to pin down the right track.
"All you had to do is have enough money. You don't actually have to measure back then." – Jeff Greenfield
Without the ability to determine the channel that works, most marketers will have to go with their gut. Most marketers fall in love with tactic and strategy, then all of a sudden it's three weeks before the end of the quarter. They also often cut everybody by 90%, but having the tool will tell you precisely what to cut so it won't hurt next quarter.
Quick links to connect with Jeff Greenfield:
Sima loves to hear from her listeners with input, questions, suggestions and just to connect! You can find her at the links below!
Sima is passionate about data and loves to share, learn and help others that share that passion. If you love data as much as her, subscribe on iTunes and don't forget to leave a rating and review!