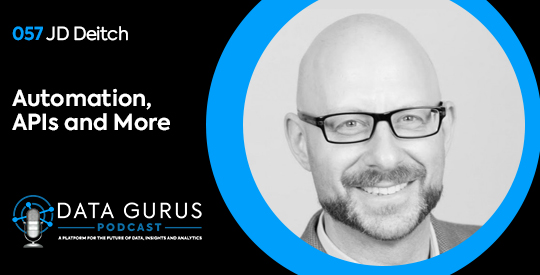 Podcast: Play in new window | Download
Today, P2Sample's Chief Revenue Officer JD Deitch joins Sima Vasa. They have a fascinating conversation about JD's transition to revenue functions from research and analytics, what has changed within the sample industry over the last ten years, and so much more.
"So much of what we do is digital and the effort to try to attract people's attention and get them to do something—whether that is to buy a product or to do a survey—all that happens online and happens at a massive scale." – JD Deitch
JD Deitch – Learning How Insight Businesses Operate
Truth be told, JD's transition into his current position at P2Sample did not go quickly. He was head of research and analytics at The NPD Group. As part of the European Management Committee, he came to learn how insight businesses function.
After he left NPD, he ended up in a great transitional role where he worked in teaching research as well as taking care of methodologies that build surveys. Finally, when he moved to IPSOS, he became responsible for all of IPSOS' North American panel and sampling operations. While there was the implicit research element in his job role, he also concerned himself with how to get the business done, deliver good outcomes for clients, and manage a huge budget.
Marriage of Research, Revenue and Sample
All his previous experiences eventually became his stepping stone. He managed to parlay all his learnings into the path that eventually led him to P2Sample. When he thought about it, his position at the agency is the second time that he has taken up the responsibility for an overall revenue function.
"For me, what actually plays into it is I do know how the business operates… I've had plenty of time in front of clients knowing what they want and been able to express that into things like marketing strategy to help our sales and business development teams grow."  – JD Deitch
Digitization: The Great Driving Force
The aim of most research projects has not changed much. They all wish to understand the behavior of a population from a smaller group of people. However, the techniques and methods to operationalize research have completely evolved for the past 10 years.
That everything has become digital drives the change, especially from a sample point of view. In turn, most agencies need to adapt to work with these changes. Nobody wants to just read a PowerPoint presentation—they wish to execute and apply insights pronto, and so the era of automation came to be.
"I think you're seeing the endpoints really driving change towards the middle, and right now, probably the biggest stressors are on the agencies to transform themselves and react to that."  – JD Deitch
Quick links to connect with JD Deitch:
Sima loves to hear from her listeners with input, questions, suggestions and just to connect! You can find her at the links below!
Sima is passionate about data and loves to share, learn and help others that share that passion. If you love data as much as her, subscribe on iTunes and don't forget to leave a rating and review!