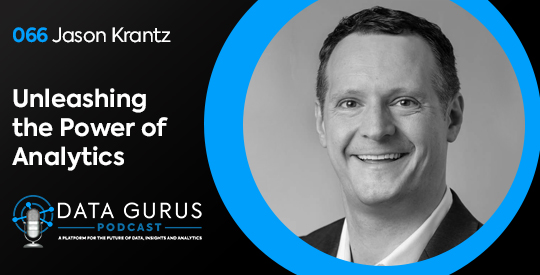 Podcast: Play in new window | Download
Today's guest entrepreneur Jason Krantz of Strategy Titan joins Sima Vasa to discuss a wealth of information about data analytics and insights in the B2B space. He shares his personal experience in having a balance between technical and business skills. Further, he discusses how these skills helped him navigate the elusive HVAC industry.
The Immense Power of Analytics
With over 10 years of business analytics, data science, and strategic leadership experience, Jason Krantz recognized the power of analytics early on his career. He also has extensive executive experience in sales and marketing strategy design, financial reporting, market research, price management, and supply chain optimization. 
"It's amazing, it continues to amaze me. The raw power of data, analytics and the ability to generate insights and ultimately helps inform strategy and in the end, drive financial results." – Jason Krantz
He pursued entrepreneurship and founded his company, Strategy Titan, which helps companies "weaponize" data and transform it into a competitive advantage. Further, he was recognized as an HVAC "Top 40 Under 40" in 2017.
The Balance Between Technical and Business Skills
In this episode, Krantz points out the importance of striking a balance between data analytics and business skills. A company may have the best data engineers but without strong business knowledge, it would be challenging to provide value for the data analysis.
"By understanding the business strategy, you can go into an initiative⁠—crystal clear⁠—into how exactly what you are working at is going to help a specific segment of the business." – Jason Krantz
Analytics, by itself, cannot deliver certain results for a company, such as a price increase, for example. However, if the analytics team would proceed with exploratory analysis and understand the challenges of the channel or of a region, then they would be equipped with sound decisions. This places data into context.
"Now its that process of understanding and presenting the case to the business in a manner which they can understand it but also see the opportunity." -Jason Krantz
Navigating the HVAC Industry
Sima Vasa, our host, shares her admiration for Krantz as he successfully navigated the HVAC Industry⁠. In the market research world, HVAC is considered a category considered a difficult industry. Krantz pulled out a number of powerful insights from data sources, which aided stakeholders in further understanding the industry.
"If you can answer any five questions about your business, your market, channel, whatever it is, what questions would you ask? Virtually everything that we ask is market-centric." – Jason Krantz 
He shares more on this interview, his personal experiences and success, the process that he made for data curation and how he managed to handle the HVAC executives to gather insights. 
Quick links to connect with Jason Krantz:
Sima loves to hear from her listeners with input, questions, suggestions and just to connect! You can find her at the links below!
Sima is passionate about data and loves to share, learn and help others that share that passion. If you love data as much as her, subscribe on iTunes and don't forget to leave a rating and review!