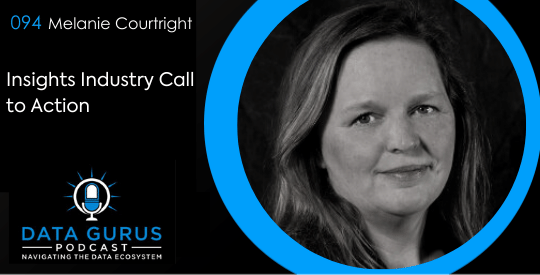 Podcast: Play in new window | Download
Sima sits down with Melanie Courtright, CEO of Insights Association, to discuss the rapidly changing scene and the diligent work that Melanie's team is doing in providing additional resources and perspectives on how to deal with the fallout of the Corona Virus and its impact to the industry.
Melanie began serving as CEO of the Insights Association on January 1, 2020. Previously Melanie served as Executive Vice President, Research Science & Data Strategy at Dynata.
A respected, passionate voice on market research trends, standards and quality, Melanie has participated in many industry organizations, events and initiatives. She serves on the executive board of the University of Georgia's MRII Education program and is an active member of Women in Research (WIRe). Previously Melanie served as President of IA's Southwest Chapter and as a U.S. representative to ESOMAR.
Insights Association's Call-to-Action
There are times when the industry goes through rapid change, of course, and that rapid change is usually due to technology disruption or a new methodology that enters the space, but this particular disruption is totally unplanned and one that we're facing as a nation.
Melanie has observed that in normal times we would ordinarily see healthy competition all around us, but this crisis has pulled the industry together as a community. She has been seeing giveaways of all sorts of free services, software, and licenses.
Conversely, when attending some of Insights Association's Town Halls, you'll hear fears being expressed by people regarding the viability of their businesses, their jobs and the people that they support.
Insights Association's primary purpose is twofold: to put as much information and resources into the hands of the industry and to advocate as hard as they can into the Administration and government on behalf of the industry.
Virtual Town Halls – Information and Resources
Each Friday, Insights Association holds a virtual Town Hall with speakers outside of the industry to talk to our industry to discuss topics such as crisis leadership, economics and economics forecasting, financial resources, and how consumer sentiment is shifting.
Although the webinars utilize speakers outside of the industry, speakers inside the industry take the time to leverage the meetings with their industry perspectives.
Insights Association is also generating as much content as possible into a written format. They're doing research on research and measuring the impact through the industry. They are also measuring what the corporate buyers believe their future in research looks like and much, much more.
Advocation on Behalf of the Industry
Melanie explains that they are currently working on a letter to the Administration regarding the large number of small businesses, the large number of independent contractors and the industry's self-employed sector. They're reminding the Administration of the size of the research as pertains to the United States specifically, the importance of research as an industry to the government, to the voice of the population and to polling, and the tremendous value that we, as an industry, deliver.
Insights Association is encouraging the Administration to remember the insights industry and to not let the industry die out.
They will be copying the letter and giving it out to its members so they can sign it, as well.
Melanie provides an overview of additional matters for which they advocate.
_______________
Email me your thoughts!
Sima is passionate about data and loves to share, learn and help others that share that passion. If you love data as much as her, subscribe on iTunes and don't forget to leave a rating and review!
Melanie's LinkedIn
Insights Association's Twitter
Insights Association's Facebook
If you would like to get involved, please send Melanie an EMAIL!