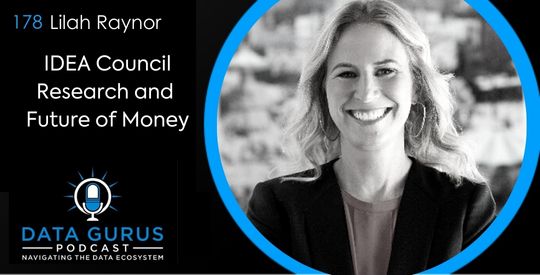 Podcast: Play in new window | Download
Welcome to the Data Gurus podcast!
Sima has selected some interesting and educative past episodes of Data Gurus for you to enjoy in the last few weeks of August. She will return in September with new guests, fresh content, and a few surprises!
Today's episode is a replay of episode 155 with Lilah Raynor, the Founder, and CEO of Logica Research.
In this episode, Lilah talks to Sima about a research project she did with a team from the IDEA Council and discusses an ongoing study she is involved in, called The Future of Money.
Lilah's background
Lilah comes from a financial services background. Before founding Logica Research, she managed the research team at Charles Schwab.
Founding Logica Research
Lilah founded Logica Research about fifteen years ago. It was initially called Koski Research. She started her company to provide excellent client service for clients who preferred working with small boutique research firms. Over time, they have become more niche-focused on financial services and fintech.
Making a change 
Owning her own business allowed Lilah to have more flexibility while raising her two young children. It also allowed her to work on different projects and do different types of research.
Research around hot topics
Lilah participated in and conducted some research to help the research industry understand how to ask questions around ethnicity, race, and gender.
The IDEA Council
The Insights Association has a group called the IDEA Council that has within it two working groups. One does research on research, and the other focuses more on the profession and talent.
The IDEA Council's research on research group
Lilah got involved in the IDEA Council's research on research group because the purpose of her company is to provide insights for organizations to help improve people's financial lives. After the murder of George Floyd, and with more focus on inclusion and diversity within the research industry, she wanted to be in a position to provide sample and participants that were both inclusive and diverse.
A white paper
Lilah and the team at the IDEA Council created a white paper on having more inclusive demographic questions. They focused on race, ethnicity, gender, and sexual orientation.
The first step
The white paper is the first step in an ongoing series of research studies. It was done to provide a perspective and recommendations on how to ask demographic questions, how to be more sensitive and inclusive when asking demographic questions, and how to use new questions in their sample design.
A three-tiered approach recommendation
They came up with a three-tiered approach recommendation for asking questions about gender and sex.
Non-binary
Non-binary has not yet been properly defined or researched, so it might not be clear to older generations.
Caution and encouragement
Caution has been recommended when using terms that might not have universal definitions. The option for self-identification with an open end is encouraged.
Sexual orientation
Sexual orientation needs to be differentiated from gender. So they offer suggestions for different ways to ask questions about sexual orientation.
Demographic questions
Demographic questions should be handled in a sensitive way, similar to questions about household income, assets, or money.
Race and ethnicity
There is a large section in the white paper on asking questions about race and ethnicity. It has recommendations for different ways in which those questions can be asked. The white paper also identifies terms for race and ethnicity, country of origin, ancestry, culture.
USA
The recommendations in the white paper are based on and geared for the United States.
Race
Questions about race should be asked in a sensitive and open-ended way. Having an inclusive and sensitive coding framework is also recommended.
Multiple selection and self-identification
Allowing for multiple selection and self-identification are also recommended.
Where do you find the white paper?
The white paper can be found on the Insights Association IDEA Council website.
The Future of Money
Lilah is also involved with an ongoing study on the financial and economic uncertainty and stress caused by the pandemic called The Future of Money. Since the pandemic, people have become much more open to talking about money.
Employees are looking for guidance from their employers
Right now, employers are in a place where they need to look at different ways to help their employees. Insights show that people want more than just a 401K, health care insurance, and competitive compensation. They also require investment and financial advice, an emergency savings fund, and help with budgeting.
Are we heading for a cashless society?
People have been using less cash since the start of the pandemic, and also different forms of payments like peer-to-peer, in-app payment options, and autofill payments at online checkouts. We will most likely only go cashless in the distant future, however.
Links
Connect with Sima:
Email me your thoughts!
Sima@Infinity-2.com
Connect with Lilah: