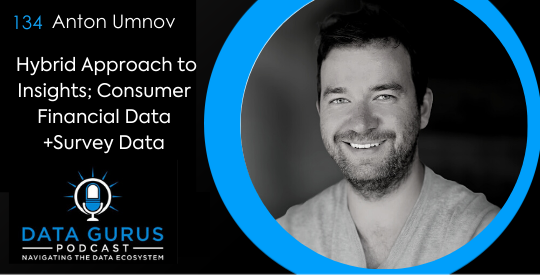 Podcast: Play in new window | Download
Welcome to another exciting episode of the Data Gurus Podcast! Today, Sima is happy to welcome Anton Umnov, the VP of Consumer Insights and Partnerships at Drop Technologies Inc., as her guest for the show.
Anton's journey to where he is today
Anton started working in the consumer insights and data space about ten years ago. He spent a long time at Nielsen Data Analytics, where he had many engagements on the client-side with various experiences across multiple categories. Then, about a year ago, he joined Drop.
Data analytics and consumer research
Anton loves data analytics and consumer research. He particularly enjoys the intersection between data and research.
Drop
Drop is a consumer app with about four million users based primarily in the US and Canada. It is a downloadable platform that focuses on driving loyalty rewards and value for the clients, users, or consumers. Apart from getting great deals, shoppers can also get rewarded for doing surveys and playing games.
Why Drop is different  
You can connect the information from your bank account to Drop. That will allow you to unlock better deals and offers from brands and retailers automatically. So you do not have to scan receipts or use loyalty cards.
Drop users
The majority of Drop users are millennials and Gen Z. In most cases, the users are willing to connect their bank accounts to Drop for a seamless experience and better deals.
Security
Security is one of Drop's primary concerns.
A younger audience
Although the big retailers already have many shoppers, they still work with Drop as clients because they think of Drop as having a younger millennial audience and consider it a user acquisition gain.
Retailers
Smaller retailers use Drop to attract new customers after launching a new brand or product. For the bigger retailers, it is all about the loyalty play. Drop can share a lot of data with the retailers because they have their customers' banking information. They can see exactly where the customers were shopping in the last six months. That allows them to prove to the retailers that the customer that they attracted is incremental for them.
Share wallet switches
At Drop, they can see the share wallet switches, which allows them to provide all their partners with additional analytics that help them evaluate the success of their campaigns. It also allows their partners to see if they gained any volume over the last few weeks and where their sales originated.
Data by category
At Drop, they sell data by category. They are currently tracking about forty different categories. Those include food delivery, CPG, financial services, and travel. They also go to specific retailers and brands to see who is winning and losing and why.
Launching surveys automatically
At Drop, they see spending transactions almost immediately. So they can do an NPS-type survey, or a more complex one, right away.
A hybrid product
They have a hybrid product on the market that has quite a large amount of transactional data. They also talk to people to find out why they switched to another brand or retailer.
Two pillars
At Drop, they have two pillars that work hand-in-hand. They have an app to maximize the number of points and rewards that their consumers will get. They also have the data side of the business that works in conjunction with the app itself because the more data they monetize on the market from working with different brands, the more value they can provide for their users in terms of rewards.
Market research analytics
Market research analytics is a big part of Drop's overall business. It is one of their key pillars for 2021 and beyond.
Expanding
Drop is trying to expand outside of traditional CPG and pressure retail. They are also focusing on some of the newer industries, like food delivery and crypto.
Stimulus tracker
Via their Stimulus Tracker study, they tried to help the banks and hedge funds understand how people were spending the stimulus money that was deposited into their accounts.
A surprising finding
They found that right away, many people invested the money they received on home improvements. Many consumers also invested some of their money in stocks and crypto. That was a surprising finding for the team at Drop because their audience is mainly millennials.
A joint approach
They used a joint approach incorporating both transactional data and survey research for the study.
Data and insights 
Drop spent their first year making sure that their data made sense. Then, last year, they started putting some of their insights on the market.
The biggest obstacle
For Anton, the biggest obstacle is trying to find a product-market fit that combines data and surveys.
The challenge
Drop has coverage on forty industries. That makes it challenging for Anton to decide on which industry to target and focus on.
The future vision
Drop is expanding. They are doing some work in the UK currently. They will be focusing primarily on the US and also on Canada for this year and the next.
The goal
Their goal is to maximize different revenue streams, rewards, and points for their members.
Links:
Email me your thoughts!
Sima@Infinity-2.com
LinkedIn
Twitter
Anton on LinkedIn