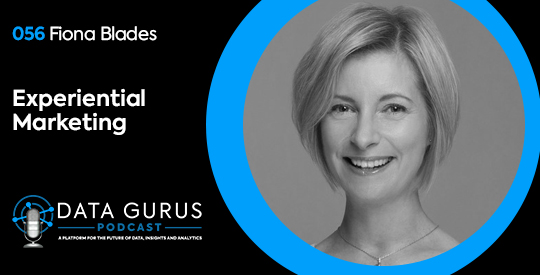 Podcast: Play in new window | Download
On today's episode, the Founder and Chief Experience Officer of MESH Experience Fiona Blades sits with Sima Vasa. She shares how she leveraged mobile advertising long before it became mainstream and how experiential marketing is even more relevant today.
Fiona Blades – Company Founded on Encounters
Fiona founded MESH for the same reason everyone else starts a company. She was working as Planning Director at Claydon Heeley, handling famous brands like Mercedes Benz. Back then, she knew that it was not just TV advertising but also the plethora of everyday experiences—ranging from a dealership or a neighbor's purchase—that make people want to buy the car.
"Different encounters were making a difference to how people perceive the brand." – Fiona Blades
Knowing all that, Fiona felt that there was a gap that needed to be filled. This was how she came to realize the potential of the mobile phone.
Unsung Potential of Mobile Phones
Fiona thought that if they could get people to tell them whenever they see, hear and experience anything to do with a particular brand through the mobile phone, they could then work out which of the experiences were positive or less positive. That way, they could figure out how to help clients optimize their marketing investments.
She went through a number of little steps before she could push through with the idea. It all began in another research company's suggestion that they sent a text message to a thousand young people to gather some data. Seeing actual responses coming through, Fiona figured that they could brief people to be more proactive in the data collection.
Taking on Experiential Marketing
Their data-collecting text brigades had two uses: as an ethnographic diary and as an evaluation. Through this effort, they began to see how respondents reacted to TV advertisements, posters, and even other people's brand experiences.
Not too long after, Fiona met her business partner who shared the same vision that she had. They decided to take on an award-winning project with a more qualitative approach to evaluating the brand experience. They launched some pilot tests that eventually proved that they could be onto something.
"After I saw the data coming back in, I think two things happened. One was, I thought, 'If I can do that, somebody else can easily copy, so why would anyone buy it?' But the more important one was, I wanted to do it. I saw the data and I thought, 'Okay, I know how this could help marketers.'" – Fiona Blades on starting MESH as an agency
Quick links to connect with Fiona Blades:
Sima loves to hear from her listeners with input, questions, suggestions and just to connect! You can find her at the links below!
Sima is passionate about data and loves to share, learn and help others that share that passion. If you love data as much as her, subscribe on iTunes and don't forget to leave a rating and review!