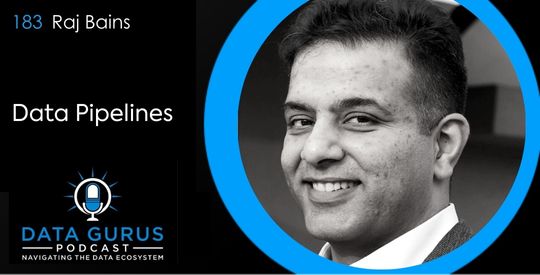 Podcast: Play in new window | Download
Welcome to another engaging and informative episode of Data Gurus!
Sima is delighted to have Raj Bains, the CEO and Founder at Prophecy, joining her for today's show!
Raj started Prophecy five years ago and decided to build one big product to get data ready for analytics. He talks to Sima about his business and product and where he fits within the industry.
Raj's background
Raj started his professional career in the early 2000s. He started with graphics, worked as a developer, got into power tools, and worked at Microsoft. After that, he joined a team at NVIDIA to build CUDA, which now gets used for Bitcoin mining. Then he moved into the data space and shifted from engineering into marketing and product management. While selling big data platforms and managing Apache Hive for the Hadoop Company at Hortonworks, he saw data users struggling to be productive with outdated tools. He solved that problem by building power tools to make it easy to get data ready for analytics very quickly. He has focused on doing that since then.
Prophecy
Raj started Prophecy in 2017 to build a visual tooling layer to get data ready for analytics. Data scientists, data analysts, and data engineers can use the tool to avoid having to do unnecessary work.
Standardization
There is a big problem with standardization within large organizations when it comes to building data pipelines.
The problem with unstandardized codes 
In the past, people within the industry used to write scripts. Then they started using standardized visual tools. After that, they moved to the cloud, but nobody wanted to get locked into that tool, so they got rid of the visual development tools and started using codes. The codes within companies are unstandardized, however, so everyone's code looks different. That has led to many different problems.
A solution
Prophecy's clients do visual drag-and-drop development, and Raj and his team write high-quality code for them. That has opened people up to returning to visual development and allowed much more standardization within the industry.
Building a solution
Raj and his team started working with a few big credit card companies and banks. Then they spent two or three years building their product. They still have a year or two of building ahead of them, but they have reached a point where they can solve the entire problem for companies using their product.
An enterprise standard
They have created an enterprise standard for all lines of business, where data analysts, data engineers, and everyone else within a company use the same tool and speak the same language.
Data pipelines
Prophecy makes it quick and easy for companies to build data pipelines. Data pipelines are essential for analytics because they provide the necessary information for asking intelligent questions. The data has to be high-quality, timely, and in the right shape to answer questions quickly.
The future
Raj believes that they will solve the issues with data management within the next three to five years.
Bio:  
Raj is the founder & CEO of Prophecy. Previously, Raj led project management of Apache Hive at Hortonworks through their IPO. He also headed product management and marketing for a NewSQL database startup.
Raj continues to actively develop compiler and database technologies in his quest to create data tools "that don't suck." His engineering roles include developing a NewSQL database, building CUDA at NVIDIA as a founding engineer, and as a compiler engineer working on Microsoft Visual Studio.
Links:
Email me your thoughts!
Sima@Infinity-2.com
Connect with Raj
Raj Bains on LinkedIn
Raj Bains on Twitter