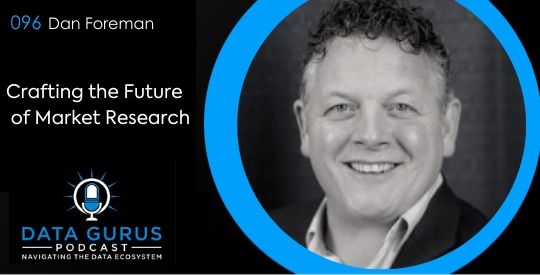 Podcast: Play in new window | Download
Dan Foreman joins Sima for today's episode, to talk about his journey, as an entrepreneur, into market research. He is currently involved with the Zappy Store, Course 5i, Borderless Access, Dalia, Bakamo Social, Veylinx, MindProber, and Haystack.  
Dan consciously chose to join the market research industry when he was midway through university. He was doing a degree in psychology at the time, and he liked what he had seen in a presentation given at the university by someone from a market research company. 
In his final year, Dan interviewed for many different jobs. He was offered several positions, three of which were in market research. 
He chose the highest paid, most exciting job, with Research International, which was the largest customer research agency in the world at the time. He worked in their Drinks and Leisure Division, which was a lot of fun, and his first clients were Guinness and Alton Towers. 
Climbing the ladder
Dan spent some time in research and he also worked at a marketing agency, called Added Value, which became Kantar Added Value, and is now Kantar Consulting. He then worked, client-side, at Kimberly-Clark. After that, he went into management consultancy, and then into advertising. 
He joined Focus Vision when they were expanding outside of the US, as their first non-American employee. The business then saw extremely rapid growth, and about eighteen months later, it was sold to Schroder Ventures, and it changed from a family-owned business to a private entity. 
Taking the entrepreneurial route
Dan later started going down the entrepreneurial route. And he got involved with several different companies with lots of interesting applications to modernize the world of market research.
The three types of businesses that Dan is involved with
Dan got involved with three different types of companies. 
With some of them, he got involved right from the outset, at the startup. 
Other companies were already going and they had some revenue, but they were struggling to scale, so they needed expert help in navigating the market and figuring out their product/market fit. 
With these two types of companies, there is always an investment relationship.
The final group consists of companies that were already very well established but they had hit a plateau, so they required some fresh thinking about the business. With this group, Dan's role is typically advisory, as these companies are looking for support and not necessarily investment.
The way that Dan connects with organizations
Dan has a very clear picture of the kind of organizations that he wants to get involved with, and of the kind of future market research that he would like to help craft. He actively seeks out businesses in these areas.
He also has many people asking him for support or an exploratory conversation about their business. 
Occasionally, he has come across completely opportunistic situations, with which he has done his best to connect the dots, bring them into the industry, and make them successful.
Some of the themes Dan considers
Recently, Dan took a position with a language technology firm. This is something he has been actively looking for, for years, because he is aware of the huge amount of opportunity that exists around all the unstructured data there, which has become even more complex and varied with the addition of videos and images. 
He is also interested in anything that enhances the understanding of the brain, and anything related to emotions and behavioral-based measurement.  
Dan is interested in anything which advances his reach, so the more brains that he can access around the world the better it is for him.
Is data the new oil?
Dan has an interest in anything which truly captures the value of data. 
Data is said to be the new oil. And if data is indeed the new oil, Dan believes that he and his people should be the richest in the world as they have access to what's in people's brains, hearts, and guts. And there is so much that can be done with all that information.
Dan's perspective on data
Dan does not believe that data is the new oil because oil's value lies in its scarcity, and data is available in abundance. And Dan knows that the data that he provides only has value when it is meshed and merged with all kinds of other data. 
Dan and many CIOs and CTOs are wrestling with how to blend all the available data, and how to effectively find navigating data as easy as going onto Google.  
Dan suspects that there are people in the background, working on ways that data can be integrated in a meaningful way, as a genuine system. Although it could take a long time to get there, he is confident that it will happen.
Gleaning insights from data
There have been some incredible discussions around the use of data since the onset of COVID-19. And all the available data can be integrated into many different models of understanding.
What frustrates Dan, however, is that countries are not consistently sharing their data. And every country and every company is in a race to find a vaccine, so there's a lot of inconsistency around the way that the data is being shared. 
Hopefully, there will be no further loss of lives due to data being withheld.
The effects of the current situation
There are both positives and drawbacks to the current situation with COVID-19. 
One of the positives is that Dan's marketing budget has changed dramatically. They're no longer flying people to different places or spending money on hotels and exhibiting. So the budget falls straight to the bottom line unless the company is exploring some of the digital communication that it did not have the budget, the inclination, or the time for, previously.
On the down-side, Dan is big on in-person conversations, particularly when it comes to deal-making. And that can't happen at the moment, so these things have had to pause for the next few months. 
This can be very frustrating and mentally draining. 
 __________________________
Email me your thoughts!
Sima is passionate about data and loves to share, learn, and help others that share that passion. If you love data as much as her, subscribe on iTunes and don't forget to leave a rating and review!
Dan's info:
Dan's LinkedIn Profile – linkedin.com/in/dforeman
zappistore.com  (ZappiStore)
daliaresearch.com/home/  (Dalia)
hatted.co.uk/  (Hatted)
www.bakamosocial.com (Bakamo Social)
Twitter – TEDx_RTW