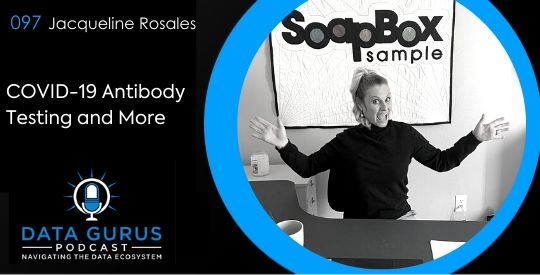 Today, Jacqueline Rosales, the Chief Operating Officer of SoapboxSample, joins Sima to talk about market research, entrepreneurship, COVID-19 research, and cannabis.
Jacqueline heads up multiple research divisions at the ISA Group, including SoapboxSample and icanmakeitbetter.   
SoapboxSample recently celebrated eight years. About three or four years ago, they made a strategic decision to acquire icanmakeitbetter because their focus was on digital agility and that could help Soapbox to stay flexible, nimble, and at the forefront as it continued to grow.
Some background  
In 2012, Jacqueline was asked to join the ISA Group to build a panel company. It seemed a little odd, as she had done that several years before. But what it came down to was that there were certain areas of business that still could not be covered by either traditional or new methodologies. So they decided to position themselves online with the idea of evolving into the digital space and entering the business of legally buying and selling people.
Working with academic researchers and scientists
Since the onset of COVID-19, Jacqueline has been working with academic researchers and scientists. She's shared with them the history and evolution of market research and the consumer industry, and she's also explained to them how the industry engages with people electronically, digitally, and telephonically. That's where Soapbox shines because they do all three. And that put them in a very good position, two years ago, to go all-in on cannabis.
Current research
This has been a very interesting time for Jacqueline. Currently, even though Soapbox still has its typical clients, they are working mainly on cannabis and Covid-related research.
What Jacqueline is enjoying
One of the things that Jacqueline is enjoying right now is working on projects that would otherwise seem very challenging. Although these projects are still a challenge, she's been finding that everyone is now on an equal playing field because the walls between client and partner have come down. So now they are all simply partners.
Looking at things from the data collection perspective
All the collected data forms the foundation for research. So Soapbox now has the brands, the universities, and even the big media organizations knocking on their door and asking for advice about how to collect data.
Collecting data for Covid research
Soapbox has done a lot of traditional-style Covid research, and that positioned them to move into some antibody testing research.
Also, some academic researchers needed to get a representative population of the LA County, which is very diverse, but they didn't know how to reach everyone, so they asked Soapbox to assist them in reaching all of the various groups within the LA population.
The trick was that they needed to get people to show up at a testing site where they could drive through and have a finger-prick-based antibody test. So Soapbox had to build a system that allowed them to go through that entire process.
Significant media coverage
People got wind of what was happening with the antibody research, so after Soapbox's pilot was released, they got some very significant local and national media coverage.
As a result, people started writing to Jacqueline and telling her their stories.
An interesting process  
Collecting data for Covid research has been a very interesting process. Soapbox was in the right place at the right time, and their nimbleness was very important in allowing them to collect the data for the Covid research.
They were able to take the information that they had, apply it to something different, and then do with it what they already knew how to do.
Getting approval
Every single step in the process has required approval from the IRB. If even a single word in a survey is changed, it has to go back and be approved once again. And Jacqueline's entire team had to take courses on human factors research.
Pivoting
Pivoting is essential now. Some people, however, are just waiting for things to go back to what they know, and that scares Jacqueline because she's afraid that some of the very good players in the market research space will no longer be there, going forward.
Doing impactful work
Doing the antibody research has singularly been the most important, impactful, and exciting work that Jacqueline has ever done in her life!
Ever since the media got wind of what they were doing, and they were all over the news, life has not been the same again for Jacqueline and her team.
People's responses
Jacqueline has been closely watching the responses of people and she's been very careful not to get caught up in any internet arguments. Because the world is very polarized right now, people are emotional, and the media is putting out very different reports from the same data.
Jacqueline is aware that she and her team are now very well regarded and also extremely hated for the work that they've been doing because people have such divergent points of view.
Jacqueline's current challenge
The challenge that Jacqueline and her team now face is how to get all their information and experience out of their heads and into the world.
They realize that they will have to take a step back while still moving forward to package all the information and to help people faster.
The cannabis world
Soapbox started with cannabis at the end of 2015. Jacqueline had contracted a condition called CRPS as a result of an accident that year, and her doctors and specialists were nervous about the amount of medication she was taking. So they suggested medical cannabis to help her with her pain management and with the reduction of her related medication.
The cannabis treatment was successful and she became very passionate about it as a result. She believed in it and, as an entrepreneur, she also realized that it could be very important in the research industry, and she had the opportunity to become a trailblazer. A little more than two years ago, she and her team went all-in with it.
Now, two years later, although they initially experienced some resistance from stakeholders, they are still very involved and they have some key brands and ancillary business from that category. Cannabis is now considered an essential business.
Soapbox partnered with UCLA Law School and together, they produced an 80-page document on best practices and rules for researching with cannabis.
Jacqueline believes that going forward, the cannabis category will touch consumers every day, in many different ways.
______________
Email me your thoughts!
Sima is passionate about data and loves to share, learn, and help others that share that passion. If you love data as much as her, subscribe on iTunes and don't forget to leave a rating and review!
Jacqueline's info:
Podcast: Play in new window | Download