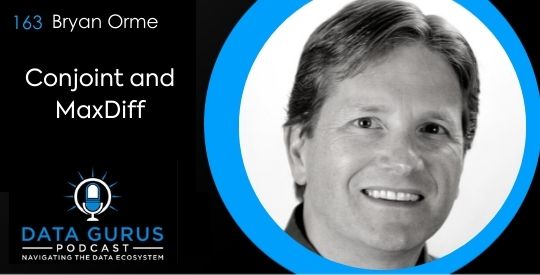 Podcast: Play in new window | Download
Welcome to this inspiring and informative episode of the Data Gurus podcast! Sima is joined today by Bryan Orme, the president and CEO of Sawtooth Software. For more than 30 years, Sawtooth has helped its clients optimize products and pricing and make better business decisions with their conjoint analysis tools. Bryan has won multiple awards in the marketing research field, published over 100 articles and papers on conjoint analysis, and written three books on related subjects. In today's show, Bryan helps us understand the differences between conjoint analysis and MaxDiff and highlights how Sawtooth Software tools are doing good things in our world.
Bryan's journey
No one chooses an insights and analytics career. While doing his MBA work, Bryan discovered his interest in these research techniques and realized how useful they could be in solving important problems. He worked at IntelliQuest, Inc. for a while before moving to Sawtooth in 1995.
An overview of Sawtooth
Sawtooth is an insights platform for web-based surveys and surveys/devices not connected to the web. Their tools are used for product and price optimization,needs-based segmentation, and are useful in healthcare and pharmaceuticals. Their survey platform is best known for conjoint analysis and MaxDiff, and their best-kept secret is a powerful survey-writing tool.
Who are Sawtooth customers?
Sawtooth serves a diverse group of motivated and loyal customers. They serve consultancies from the very large to the very small. Sawtooth customers include companies like Google, Microsoft, and Procter & Gamble. They even serve academia and government agencies, but no one customer makes up more than 3% of Sawtooth's revenue.
The shift that has happened
In interpreting insights and strategies, there has been a democratization of the platforms and a push toward DIY techniques. There are both good and bad aspects to this shift, but the quality has suffered. Bryan says, "People have become satisfied with a C or C- answer in two hours instead of an A or A+ answer in 1-2 weeks. The pendulum has swung too far in the DIY direction."
Conjoint explained
A product or service has several pieces, like brand, functionality, performance, design, price, etc. Conjoint determines what drives people's choices and what's most important to them by asking multiple questions with varying features. The tool helps to predict what people do in order to pinpoint the most optimal combination to maximize the potential market share. Product managers, founders, and engineers can use this information to ensure product success in the marketplace.
MaxDiff explained
MaxDiff is a close cousin to conjoint and a great starting point, but it's easier to use and more broadly applicable. It can be done by anyone with minimal research experience. "It's like a one-attribute conjoint with a lot of levels." Without using a 5-10 point scale, MaxDiff eliminates the cultural tendencies and bias of some people by just showing items and having them labeled as "best" or "worst." MaxDiff is a statistical analysis of the data with great discrimination. We can think of conjoint analysis as the multiple-attribute extension of MaxDiff.
What Bryan is most proud of
Bryan is most proud of the good that Sawtooth does in the world. He gives three examples. In Tanzania, Sawtooth Software is used by the government to identify the barriers to prenatal and postnatal care for women with the goal of providing better healthcare. Prompted by a Ph.D. marine biology student in the British Virgin Islands, Sawtooth Software is used to manage tourism sustainably to protect the fragile coral reefs. Research and development at Honda use Sawtooth software to incorporate features like dual sliding doors that are controlled by the key fob on Odyssey minivans.
Links:
Email me your thoughts! sima@Infinity-2.com