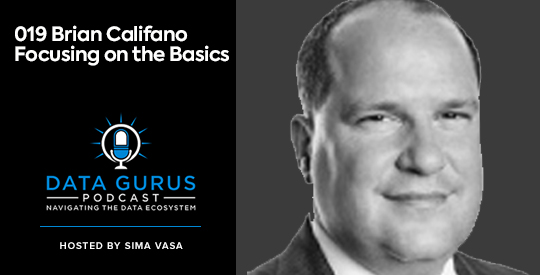 Podcast: Play in new window | Download
Brian Califano is the Co-Founder and Managing Director of AcceleratngCFO. Today he joins Sima Vasa in an episode dedicated to current trends of finance and the role of data in how we budget our financial results and plan for business future.
Brian Califano – CFO: A Significant Service
AcceleratingCFO offers Chief Financial Officer (CFO) services for small to medium size businesses, specializing in entertainment, media, and technology industries. They assess the needs of their clients and help them come up with effective marketing strategies to bolster their businesses.
The mid-market region comprises 90% of American companies. While CFO's value is apparent when taken in the context of budgeting, performance, and even buying or selling, this portion of the market doesn't see this expertise.
Trends in the World of Finance
Brian's interactions with his clients has made him see symptoms of acceleration going on in the marketplace. A lot more people are getting into buying and selling. More companies are availing of CFO services to seek the expertise of people who have been into boardrooms and studied terms that are advantageous to owners.
"Lots of companies are looking to either buy or sell their business… They're starting to assess their business and see whether or not they're going to be big enough to have an impact on the industry they're in." – Brian Califano on finance and data trends with clients
Starting Your New Business
There are many financial considerations when planning to start a new business. Many people turn to lending, among other means. A plethora of references to guide anyone in this venture is available, but it's only one factor to consider.
"At the end of the day, in terms of really believing in yourself and getting a business off the board, it's usually the best way to do it." – Brian Califano On using friends and family to raise funds for a new business
Quick links to connect with Brian Califano:
Sima loves to hear from her listeners with input, questions, suggestions and just to connect! You can find her at the links below!
Sima is passionate about data and loves to share, learn and help others that share that passion. If you love data as much as her, subscribe on iTunes and don't forget to leave a rating and review!