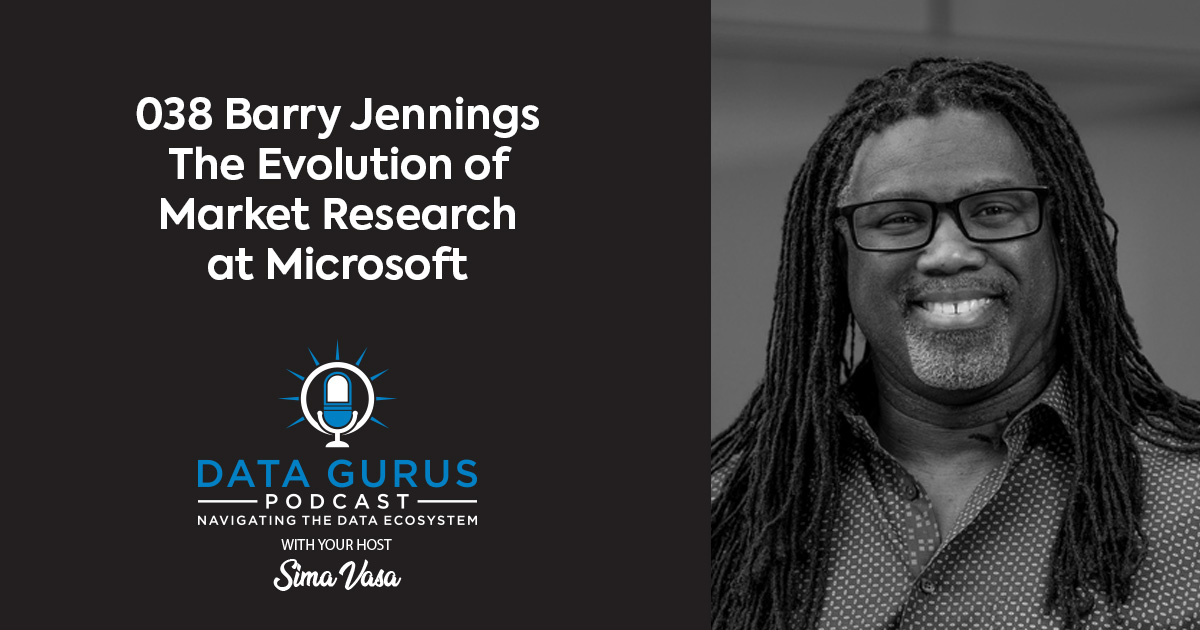 Podcast: Play in new window | Download
Barry Jennings handles the central market research team at Microsoft. On today's episode, he speaks with Sima Vasa about how research is involved in and has evolved at his workplace.
"Realistically, the job of delivering impactful insights, that part doesn't change. But we have significant challenges, like the speed of business…  data proliferation." – Barry Jennings
Barry Jennings – Market Research Director at Microsoft
At Microsoft, Barry and his team focus on endeavors related to the cloud, servers, as well as technical audiences like IT pros, developers and data scientists. His work keeps him busy on the daily, but it's the kind that doesn't allow a single dull moment. In fact, his workday is highly variable.
Barry's fundamental job is to bring insights to the business. They take things to the next level and extend what research brings to the picture in terms of changing the minds of people in the organization, product development and even messaging.
"We try to understand what questions the business is facing and we try to bring fact-driven customer insights to the table that help drive our essential business decisions." – Barry Jennings
Involvement of Market Research
Market research came to be to bring in the most innovative customer insights function in the world. The team has this very high-end aspiration that drew Barry to the job.
The central market research team also has a seat at the table as a partner, as a thought leader, and as that part of the business that helps advance Microsoft's vision
Changes and Challenges
Barry and his core team are under significant transition with the current changes in market research. They work in a function that looks at what people feel, what they want, what they do, and market research is great for that. A pretty robust qualitative and quantitative practice in the field has also existed for the longest time.
However, there is definitely an inflection point thanks to the growth in other disciplines like data science. There are a lot more analytics and data to be taken into account. As market researchers, they need to make sure they understand how what they do integrates with the broader set of insights that are out there.
Quick links to connect with Barry Jennings:
Sima loves to hear from her listeners with input, questions, suggestions and just to connect! You can find her at the links below!
Sima is passionate about data and loves to share, learn and help others that share that passion. If you love data as much as her, subscribe on iTunes and don't forget to leave a rating and review!