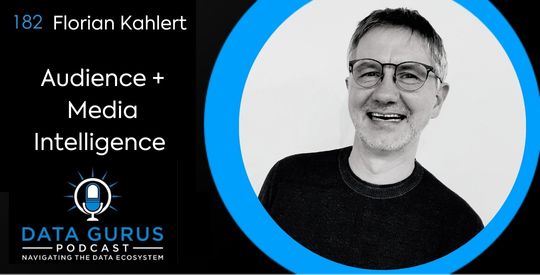 Podcast: Play in new window | Download
Welcome to another interesting and informative episode of Data Gurus!  
Sima is excited to have Florian Kahlert, the Chief Data, and Innovation Officer at Telmar, joining her on the show today.
Florian recently sold his company, Helixa, to Telmar. In this episode, he gets into the benefits of the integration between Helixa and Telmar and discusses competition, data protection, data sharing, and privacy.
Florian's story
Florian has been oscillating between data and ad tech, and the research side of the industry throughout his career. He has worked at several different companies over the last two decades. He ran Helixa until it got acquired by Telmar at the end of last year.
Helixa
There are two parts to how Helixa fits into the overall data landscape:
Transforming data (observational data, social data, etc.) into understanding what people's interests are.
Fulilling the need within the industry for accurate and detailed personas and definitions of audiences, segments, etc., that go beyond demographics and lifestyles to address their product advertising and their product development needs in a fragmented market.
Better decisions
When you have a data set of hundreds of thousands of influencers, it is hard to figure out which part of your audience goes to which influencer. A lot of detailed information is required to make the right decisions. Helixa builds those audiences in rich and granular detail to help their clients understand more about them and make better decisions.
Understanding the competition
Helixa also assists their clients strategically, by helping them understand what their competitors' consumers are doing so they can position themselves similarly or differently.
Telmar
Telmar is a traditional company that has been innovative in supporting media and advertising agencies on the media planning side.
Adding value
At Telmar, they process a vast number of data sets on behalf of their clients. They are good at adding value to the data they process.
Where Helixa and Telmar match 
Helixa is on the side of audience intelligence, and Telmar is on the media intelligence side of understanding media information and planning. Together, they provide clients with far more streamlined solutions.
Uncertainty
Covid has shown that companies react early on and quickly to uncertainty in terms of their cash management and how they control unnecessary expenditure. People have become more cautious with their budgets and spending decisions.
A global company
Telmar is a company that operates globally. The requirements for what they need to do in the UK versus what they need to do in the US are very different. Generally, they lean towards what works in the UK because when things work in the EU, they tend to work everywhere else.
Privacy
We are at a point where conversations about privacy are starting to happen on a consumer level. We will see continuous changes that could affect data companies and companies that deal with data.
Protective behavior
Many companies are currently protecting their data to maintain their competitive edge.
Florian's long-term concern 
Being part of a consumer company that works with data, Florian constantly worries that data will be generated from fewer and fewer sources in the future. Privately owned data sources have advertising models, so they may not always be willing to make their data available to help companies make decisions. He is concerned that that might impact how we understand the world through data.
Bio:
Florian Kahlert
Chief Data & Innovation Officer
Florian built his career at the intersection of Digital Advertising and MarTech and its applications for Market Research. In addition to his experience running research companies, he has been instrumental in growing startup companies.
In addition to his experience running research companies (including GfK MRI), he has been instrumental in growing startup companies in the Online Media and Marketing Technology and Research Insights industry, including Helixa (acquired by Telmar), Dimestore Media (acquired by GfK), Right Media (acquired by Yahoo!) and InsightExpress (acquired by WPP).
Florian holds a patent for online survey sample collection. As Adjunct Professor at Sacred Heart University in Fairfield, he taught digital marketing topics, and he published in numerous publications, including the Journal of Advertising Research, Advertising Age, and Broadcasting and Cable. In 2015 he was featured in Survey Magazine as one of "20 Researchers You Need to Know"
Links:
Email me your thoughts!
Sima@Infinity-2.com
Florian Kahlert on LinkedIn