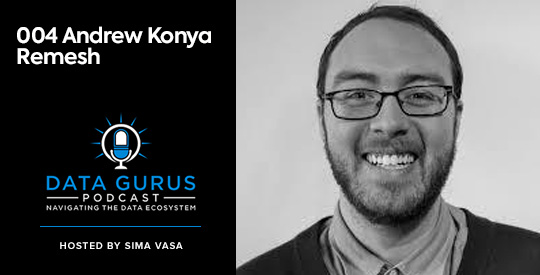 Podcast: Play in new window | Download
Andrew Konya is a computational physicist currently working on his P.hD. in chemical physics at Kent State. He is also the co-founder and CEO of Remesh, Inc.  Remesh is a platform that replaces polls and surveys with conversations to gather real-time and actionable data.
They [market researchers] said what we had built lived at the interseciton of quantitative and qualitative. – Andrew Konya 
Andrew Konya – Natural Conversation
Andrew wanted to know how to understand a country's worth of people in real-time, in a way that you can make the decisions based on what you learned from them in order to do what is best. Half of the problem is you must do it in a way that is engaging and people want to participate.
The result is Remesh built a platform that lets a single moderator hold a real-time natural language conversation with 100's or 1000's of people simultaneously. The platform analyzes all the language coming in from people in real-time and then identify verbatims that represent entire groups.
Quantitative Data from a Single Session
The platform also incorporates things like demographic data and behavioral data into the system so that a moderator is able to have what they know how to do best, a natural conversation. The moderators are able to pivot just as they would during IDI's or during focus groups. This whole process is happening on a statically significant scale.
If you allow the decision that based on market research to happen in…hours or days…they can now retool their entire organization.  – Andrew Konya on the benefits of Ramesh for corporations
All this means the data coming out of a session are potentially quantitative. Any research that can be done with a combination of focus groups and surveys, can be done in a single Remesh session through natural conversation.
Businesses are discovering that the results are just as potent as research that takes weeks and months to complete.
To hear more about Andrew and Remesh, including the participant's perspective, download and listen to the episode!
Quick links to connect with Andrew Konya:
Sima loves to hear from her listeners with input, questions, suggestions and just to connect! You can find her at the links below!
LinkedIn
Twitter
Infinity-2.com
Sima is passionate about data and loves to share, learn and help others that share that passion. If you love data as much as her, subscribe on iTunes and don't forget to leave a rating and review!