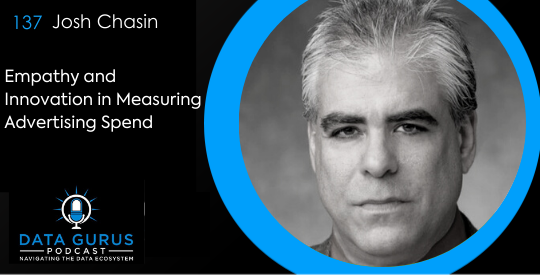 Podcast: Play in new window | Download
Welcome to another exciting episode of the Data Gurus podcast! Today, Sima is happy to have Josh Chasin, the Chief Measurability Officer of Videoamp, as her guest for the show.
Josh's career journey
Josh is an audience measurement professional in the world of market research. He has specialized in both media research and audience measurement and has always viewed his career as living at the place where research and marketing overlap. His first job was as a number-cruncher at Arbitron while he was still in college. He then moved on to a full-time job in Arbitron's Statistical Services department. He was also studying marketing and doing an MBA, which enabled him to get a job as Arbitron's Manager of Market Development.
Learning from the best
Josh spent his first seven years at Arbitron gaining a solid grounding and learning sample design from some of the best people in the business. Then he spent another seven years working for their advertiser agency group in marketing, positioning their services to the buy-side users. For his last three years at Arbitron, Josh was their VP of Marketing for new ventures. That was at the time when the internet was emerging.
After leaving Arbitron
After leaving Arbitron, Josh spent a few years as an entrepreneur and then became President at Simmons for a short time.
A consulting practice
In the early 2000s, Josh owned a consulting practice for about seven years.
Comscore
Comscore was one of Josh's consulting clients. He later became their Chief Research Officer and spent the next thirteen years doing that.
Videoamp
After leaving Comscore, Josh joined Videoamp. Videoamp lives in the ad tech ecosystem. Founded in 2014, it has become known primarily as a DSP (Demand Side Platform) that helps buy-side agencies plan, buy, execute, optimize, and measure the performance of their buys. Videoamp has recently expanded into the measurement space.
Measurement
Measurement is at the core of everything happening in advertising.
The next generation of cross-platform measurement
One of the things that led Josh to Videoamp was that he liked their vision for doing the next generation of cross-platform measurement and wanted to help.
Cross-platform measurement
The dream of advertisers is to know on an impression-by-impression basis where an impression was delivered and how it contributed to the performance of their campaign.
The goal of advertising
The goal of advertising is to shift from a mass-broadcast game to a granular one-to-one game where advertisers will know precisely where impressions are going and how they are working.
A challenge
One of the difficulties that Videoamp faces in media advertising is that heavy viewers tend to consume a disproportionate share of impressions. Their challenge is to distribute impressions to those who do not have their eyes on their screens as often.
Reaching consumers on different screens
Viewers have different tolerance levels for ad loads in streaming content versus ad loads in traditional linear content. So advertisers need to figure out how to get impressions in front of people in different places. One of the things that cross-platform enables is ways to reach consumers on different screens.
The ad spend for Facebook and Google
Currently, Facebook and Google account for between 65 and 70% of the total digital ad spend in the US. So they know everything there is to know about how the advertising is working on their platforms. However, advertisers want to understand their advertising campaigns across the platform and holistically. So it is not enough to know only about everything is that is happening inside Facebook or Google. Advertisers want to shift advertising amongst Facebook, Google, NBC, ABC, CBS, and other media channels.
Privacy
Although Facebook and Google know that people need to understand their advertising campaigns holistically, they have covenants with their users. So they have to respect the privacy of their users. The data generated on those platforms is not necessarily Facebook and Google's to share.
Enabling advertising across platforms
Facebook and Google recognize that the whole ecosystem rises with the rising tide, so they have both been active in the WFA initiative to design systems to enable people to look at advertising across the various media platforms.
Consumer privacy
Privacy is of paramount importance to everyone in the ecosystem. So now applications have to ask if they can track you. There is an almost buried setting that defaults to off where advertisers ask if they may track you. That will impact the availability of data related to consumers, so companies in the measurement space will need to figure out how to build systems that can project up to the census level based on a sample. It will also make panels more important.
The younger generation
Research has shown that the younger generation is less concerned about issues of privacy.
Why Videoamp is different
Videoamp has all the right pieces in place at the right time. They have done a great job of meeting the needs of the buy-side. They have solid leadership and many smart people who are dedicated to a vision and are building solutions. They are also highly customer-focused and have clarity of vision around what they are building.
Links:
Email me your thoughts!
Sima@Infinity-2.com
LinkedIn
Twitter