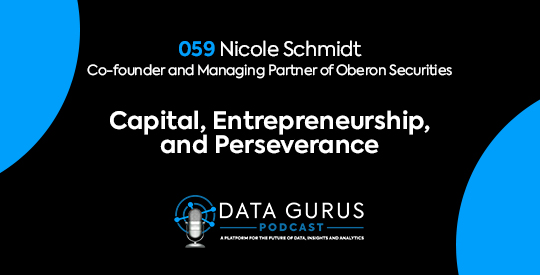 Podcast: Play in new window | Download
Sima sits down with the co-founder and managing partner of Oberon Securities, Nicole Schmidt. On this episode, they talk about Oberon, investments and the role perseverance plays in earning entrepreneurial success.
"It's really 90% perseverance and 5% talent and 5% luck because I think in a way, you make your own opportunities by sticking it out." – Nicole Schmidt
Nicole Schmidt – Backing Up Entrepreneurial Endeavors
Armed with her knowledge of what it takes to get a business off the ground, Nicole has always been supportive of entrepreneurial pursuits. This is only fitting. After all, people trust those who work in the investment banking space to represent their business in an objective manner.
Pretty much any business takes blood, sweat and tears to build up. Most entrepreneurs spend 15-20 years to grow their business into self-reliant entities. Only then can they truly operate on their own, which is why Nicole co-founded Oberon.
'Sticktuitiveness' and the Formula to Success
Nicole teaches an entrepreneurial class at her alma mater. She would always tell her students that making it big as an entrepreneur usually takes a mix of perseverance, talent and luck.
If you stick it out long enough, then good things happen and you are able to capitalize on them. Most failures stem not from not being smart. These failures come from the frustration with the process and the overwhelm of building a business from the ground up.
"I think the real talent lies in having some malleability and what I would call, 'sticktuitiveness.' And I think those are the differential points that I have seen in entrepreneurs and in my partners." – Nicole Schmidt
Risks and Non-Existent Shortcuts
There clearly is no such thing as a shortcut. Putting the time in to know what you initially don't know will be key to your success. To grow a business requires grit day in and day out.
"What makes you ultimately a successful business person at the helm of a successful business is making those mistakes and not letting them be catastrophic and ultimately learning from them." – Nicole Schmidt
Risk taking also plays a part in the overall entrepreneurial process. It does comprise 5% of the formula and therefore a constant in any business' journey.
Quick links to connect with Nicole Schmidt:
Sima loves to hear from her listeners with input, questions, suggestions and just to connect! You can find her at the links below!
Sima is passionate about data and loves to share, learn and help others that share that passion. If you love data as much as her, subscribe on iTunes and don't forget to leave a rating and review!