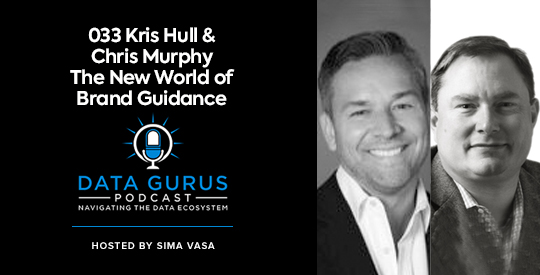 Podcast: Play in new window | Download
On today's episode, Kris Hull and Chris Murphy of Kantar North America joins Sima Vasa. Together, they talk about marketing metric audit protocols, finding the balance between short-term and long-term tracking, and so much more.
Kris Hull and Chris Murphy – MASB Accreditation
In a recent press release, the market research agency announced its accreditation for the Marketing Accountability Standards Board (MASB). Chris Murphy, Chief Client Officer, says that they perform the marketing metric audit protocols for third party audits.
This accreditation certifies the offers they provide their clients' methodology as the right metric to look to financial performance. Chris underscores the importance of performing rigorous third party audit as part of their core equity assessment tool.
"We struggle industrially to gain alignment just on the principles of brand growth and measurement." – Chris Murphy
Short-term and Long-term Tracking
Kris Hull, Senior Vice President, shares one of the things they found out in going through their internal process for research and development. When researchers stay at an aggregated level of looking at data on general equity and sales trends, a lot of noise gets in the way. This makes it difficult to find strong direct relationships about how people perceive and buy a brand.
Finding the Balance
Researchers need to look at sales as a combination of both long-term and short-term based trends to gain more insights. This practice enabled Kris and his team to see how short-term sales are often influenced by promotional and media activity. This activity then drives unaided awareness or some traditional funnel matrix giving good sense of what moves and how people respond to a strategy.
Meanwhile, power of attraction along with other trends, have stronger relationships with long-term sales trends.
"A brand can take a very balanced view of how to drive what they need to do now and what they need to do." – Kris Hull
Quick links to connect with Kris Hull and Chris Murphy:
Kantar Millward Brown – Twitter
Marketing Accountability Standards Board – Twitter
Sima loves to hear from her listeners with input, questions, suggestions and just to connect! You can find her at the links below!
Sima is passionate about data and loves to share, learn and help others that share that passion. If you love data as much as her, subscribe on iTunes and don't forget to leave a rating and review!