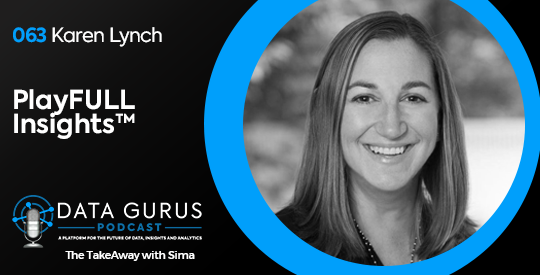 Podcast: Play in new window | Download
Karen Lynch, Senior Director of Qualitative Insights at InsightsNow Inc. joins us today to talk about PlayFULL Insights™, an innovative approach to qualitative research. Karen was granted the Market Research Disruptive Innovator award for her work which benefits consumers, clients, and fellow researchers.
The Rise of Qualitative Data
Researchers and marketers want to gain more insights into the patterns and trends behind the figures of quantitative researches. They want to understand why these figures are such and what forces are driving it. This is why the need for qualitative data is on the rise. 
The bulk of the work done by Qualitative Insights is for people who are just trying to understand the consumer journey, what's attributing to what, and the drivers of the ratings or rankings.
"Its all about telling stories. If we understand the data, we can tell a better story about it  'cause once we know the reason and rationale for what the trends are showing us, it becomes more actionable." – Karen Lynch
The Methodology of PlayFULL insights™
PlayFULL insights™ is a method that leverages people's imagination. It is highly valuable in the innovation space for people to understand what the content of one's imagination might be—their aspirations, wishes, hopes and even fears projected out in the future. 
According to scientists, the frontal lobe of the brain shuts down when asked about the future. However, using "play" as a part of their qualitative research, researchers are able to effectively dive deep into the subject's thoughts, in a very safe, strategic and deliberate way.
"PlayFULL insights a way for us to use the power of play to unlock that imaginative perspective thinking." – Karen Lynch
Adaptation of LEGO® Serious Play®
Psychologists theorize that the idea of building tangible models helps children⁠—not only to understand the world around them⁠—but to easily communicate their learnings and knowledge to other people. Within those theories,  LEGO® Serious Play® developed a method which they can use in their board rooms to aid their strategic planning and communication set-backs.
Karen has a certificate in Facilitating and Designing Workshops with LEGO® Serious Play® Method. She adapted the methods used by LEGO in creating PlayFULL insights.
Quick links to connect with Karen Lynch:
Sima loves to hear from her listeners with input, questions, suggestions and just to connect! You can find her at the links below!
Sima is passionate about data and loves to share, learn and help others that share that passion. If you love data as much as her, subscribe on iTunes and don't forget to leave a rating and review!