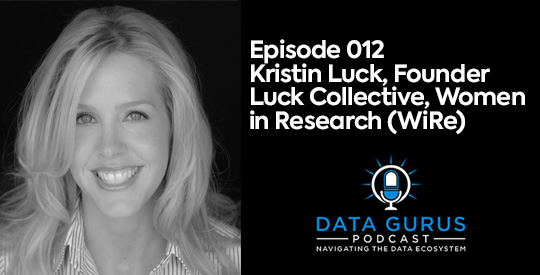 Podcast: Play in new window | Download
Kristin Luck is a serial entrepreneur turned growth strategist. She most recently served as a partner and President/CMO of Decipher until its acquisition in 2014. Currently, she works as a growth strategy consultant specializing in non-traditional sales and marketing strategies, for early and mid-stage companies preparing for global expansion, funding or acquisition.
She is consistently ranked as one of the top 100 sales and marketing experts to follow on social media. Today, she talks about growth strategies and women in marketing research.
Kristin Luck – Growth Strategies for Men and Women Alike
Kristin has been running Luck Collective for three years now. The growth strategy firm that caters to clients in marketing research and startups looking for opportunities to supercharge their growth.
She is also the founder of the eleven-year-old Women in Research (WIRe). The non-profit organization started off as a cocktail hour for women in marketing research that became a quarterly routine. It eventually branched out to New York and other places in the US.
"I realized that this thing was not gonna grow. I held on to it so tightly. So we started working with folks in local markets to help expand our event rate." – Kristin Luck
Why She's Holding The WIRe Taut
WIRe was founded on Kristin's eye-opening realization of where women truly stand in the marketing research industry. She worked almost exclusively with women in the early stages of her career. But once she rose up the ranks, she saw more men than women, or no women at all.
"Why is it that we have so many amazing women in this industry that are just not making it to the senior levels of their careers?" – Kristin Luck
Realizing the Vision
Kristin believes that WIRe is steadfastly making progress in creating more opportunities for women to earn their rightful place in the industry. They continually look into pay parity and gender differences in the executive positions to glimpse the degree of change that has come from their efforts.
To hear more about Kristin Luck and her insights on women in marketing research and growth strategies, download and listen to the episode!
Quick links to connect with Kristin Luck:
Sima loves to hear from her listeners with input, questions, suggestions and just to connect! You can find her at the links below!
Sima is passionate about data and loves to share, learn and help others that share that passion. If you love data as much as her, subscribe on iTunes and don't forget to leave a rating and review!